"Abolish the Box" Campaign Says Its Criminal Record Question on College Apps Needs to Go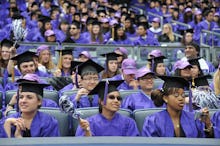 Amy Stone stared at the little box on her computer screen where her mouse pointer was meant to click, her momentum suddenly stunted. Stone, who is set to graduate from the City University of New York's Lehman College this spring, was applying to a master's program at Fordham University, but one question on the application would require her to relive a crime she had committed over a decade earlier, something she's worked hard to put behind her. 
In 2004, Stone was arrested on drug charges and would spend the next two years in jail. At the time, she was 28 years old and three weeks pregnant with her second child, whom she gave birth to while serving her sentence. While in jail, Stone said she had a "wake-up call" and decided it was time to turn her life around. 
After her release in 2006, she entered a substance abuse program, became a credentialed alcohol and substance abuse counselor, and earned her Associate's degree at LaGuardia Community College. 
After taking so many steps to distance herself from the person she was in 2004, Stone found the Fordham University application question about criminal history off-putting. Stone is expected to graduate from CUNY at the top of her class with a bachelor's degree in social work, so for her, disclosing her 2004 arrest seemed irrelevant. "How much do we have to keep proving ourselves to be rehabilitated?" she said in a phone interview with Mic. 
Stone's story is many people's story.
Stone is hardly the first person to contemplate this question. In fact, there's a growing movement to have the criminal history query eliminated from U.S. college applications altogether. Advocates call it Abolish the Box, which is directly aimed at the removal of the Common Application question that asks if applicants have been found guilty of a "misdemeanor, felony or other crime" or a "disciplinary violation" at any educational institution, including their high school. With over 600 colleges using the Common App and about 70 million Americans with criminal records, the number of people affected by the box is potentially statistically significant and disproportionately affects minority and underprivileged applicants, according to the New York Times. 
According to the New York City non-profit Center for Community Alternatives, "more people who check the box are excluded from college because of the box and/ or the supplemental information requirements than are actually rejected by the Admissions Review Committees." 
For applicants with a criminal record, checking that box requires more than a simple click of the mouse. Applicants who indicate "yes" are asked to detail their crimes, down to the exact dates they occurred, Stone said. 
"Whether it happened a year ago or 20 years ago makes no difference," she said. "Why should I have to continue to explain and why should I not be given the same opportunity as someone else to either educate or have the right to gain rightful employment?" Often times, the box discourages potential students to finish the application. Some applicants end up lying. 
Around 2006, Common App added "the box" as Americans' concern for campus safety grew, catalyzed in part by a series of deadly campus shootings in the early decade (Common App announced earlier this month that it would drop the "other crime" part of the question by fall 2016 because of ambiguity, according to the Associated Press). Recently, the conversation around the box has reached a national level — increasingly, more college students across the country, from Harvard University to the University of Washington, are staging rallies and sit-ins (at NYU, one such sit-in lasted 36 hours) to call on educators to remove the box. 
Advocates say the box does little to end discrimination in the education system.
Much of the criticism of the Common App question stems from the idea that the U.S. justice system is inherently racist; black Americans, for instance, are incarcerated nearly six times more than white Americans. Advocates of Abolish the Box say the question puts an unfair burden on marginalized communities, including minorities and undocumented immigrants. In some ways, the box is one barrier people with criminal records face upon reentering society. Without a higher education, criminals are 43.3% more likely to end up in jail again, creating a self-perpetuating cycle of social inequality. 
At New York University, which has the box (with the exception of two NYU schools, the Silver School of Social Work and the Robert F. Wagner Graduate School of Public Service), over 60,000 hopeful students applied to be a part of the Class of 2019; 31% were accepted overall. Typically each year, about 50 to 80 students check the box, which translates to about 0.1% of all applicants. Five to 10 of those applicants end up enrolling (NYU could not provide information on how many of the 50 to 80 students who check the box were extended acceptance offers).
According to Wagner graduate student Sheba Rivera, there are many applicants who abandon the process altogether once they get to the box. Rivera, who has a criminal record herself, applied to Wagner specifically because it didn't ask about her criminal background. "It told me that they valued me as a human," she said of the school. 
NYU's use of the box, which is only looked at in a second screening by the school's admissions officers, is like "replicating the punishment system that's targeting minorities," Rivera said, adding that the demographic at NYU is disproportionate to that of New York City itself — especially as NYU touts itself as a school that is "in and of the city." For the 2013-2014 school year, only 4.8% of NYU students were black, while about 17.6% of all New Yorkers in 2014 were.
Rivera is also one of the organizers for the Incarceration to Education Coalition, a school group that has been leading the way for NYU to go box-blind since 2013 in a campaign called Unbox NYU. The group has performed sit-ins around campus, and have demanded to speak to the administrators of both NYU and the Common App.
But Eric Sturm, another IEC member and NYU alumnus, believes that NYU keeps the box to retain and please its "elite" $64,000 tuition-paying demographic. NYU, he argued, keeps the box because it gives a sense of security to the "sheltered" applicants and their parents. "There's a lot of money," Sturm said, so the university doesn't have to cater to all groups of applicants. "Why would you turn [that] away?" 
The box's removal has a long way to go.
In order for NYU to officially stop using an application with the question on it, the school would need to see "objective research" from Common App to prove that the boxes really are not effective at making campuses safer, NYU's Vice President for Public Affairs John Beckman said over the phone. However, "no one university can tell the Common App what to do," he said. Earlier this year, NYU presented a letter to Common App asking them to consider the box's existence.
Common App stated it's currently in talks with its participating schools over how to conduct the proper research in finding out how effective the box is so that it can announce the plan for the undertaking by next year. "People are looking at it through a different lens now," Aba Blankson, Senior Director, Marketing and Communications, said about the box in a phone conversation. But with so many schools in the mix, a decision like this would need time.
Not all colleges use the Common App or a similar box; University of California school system officials believe that such information has no bearing on whether or not someone can benefit from an education, Claire Doan, from the University of California Office of the President, said over email. Instead, a formerly incarcerated student may be prompted to disclose their criminal records post-admissions decision, such as when applying for student housing.
The UC system may be onto something with this policy, since a 2013 study that surveyed 6,972 college seniors found that only 3.3% of them actually reported their crime during the admission process. And only 8.5% of those students with a criminal record were charged with misconduct while in college.
Now, more than ever, a college education is becoming necessary — especially for pursuing a life after prison. By 2020, about 65% of jobs will entail having postsecondary education. Just last year, President Barack Obama asked Congress to ban a similar box for federal employment. 
"The more I educate myself, the more opportunities I grow, both personally, professionally," Stone said, explaining that this is the way to end the stigma. "The fact that I have to disclose this information when it has no bearing on who I am as a person or what I'm capable of... that's the biggest fight."
May 19, 2016, 3:52 p.m. Eastern: This story has been updated.