These Photos of Black Moms Graduating in the Class of 2016 Will Melt Your Heart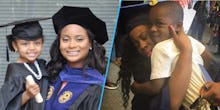 School is already hard enough — with busy class schedules, 20-page thesis papers and those quiet all-nighters.
But imagine doing all that with a kid to raise. Meet five amazing black mothers who managed to do just that:
Janel Lanae graduated from Ohio State University with a degree in social work. Her daughter, Malena, is 7 years old.
Lanae entered the foster care system at 14 years old, and said she credits some of her success to one of her case workers, Annie Williams. 
"Other caseworkers didn't care," she told NBC News. "But Annie would come pick me up, wait for me, take me to get food afterwards because she knew I hadn't had anything to eat, and watch my daughter while I was in the meeting. She went above and beyond for me, and she's the reason I majored in social work at OSU."
Carolyn Allen graduated from the University of South Florida with a degree in history. Her son, Gideon, is 3 years old.
"I'm often asked, 'What do you want to do after you graduate?'" Allen writes. "My response is that I want to be the best mommy ever. I want to secure a great job so my baby boy will never need for anything. I want to be my baby's role model. I want him to know that I finished for him, and that his birth was the reason I decided to continue my education, not sacrifice it. It may have taken me longer but I wouldn't change a thing."
Jelina Sheppard graduated from North Carolina Agricultural and Technical State University with a mathematics degree. Her son, Karter, is 4 years old.
@triggavae got pregnant in her junior year of high school. The Texas teen took her daughter with her to school every day.
Melonie Wright graduated from Emory University's School of Law. Her daughter, Raegan, will attend preschool in the fall.
Wright's preschool teachers probably didn't see this coming. She was sent to a developmentally delayed class when she was 4 years old. "The teachers said I never talked in class, and did not respond the way the other 4-year-olds did at the time. I was too quiet and did not socialize," Wright told The Root in April. 
These women have managed books and bottles, curriculum and child care with a whole lot of class before they crossed the graduation stage.
Congratulations to all the mothers graduating in the class of 2016!
Read more: 16 Graduation Caps From Black Students That Will Make You Proud, Laugh and SMH