This Tumblr Thread Illustrates the Tactics Women Use to Look Out for One Another's Safety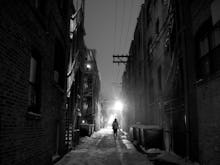 Women know that even the most mundane activities — commuting to work, going to the grocery store — are also potentially dangerous ones in a culture where street harassment and sexual assault thrive. In order to feel more safe, many women have developed their own tricks, like wielding keys as a weapon on the way to their car, or have come to avoid certain situations entirely, choosing alternate routes to the office or making sure they're home before dark if they have to walk alone. 
But often the best defense women have is other women.
In a now-viral Tumblr post reported by Attn:, user Natnovna recounted a particularly harrowing story from when she was just 14 years old. She was walking through the mall after finishing her shift at Coldstone Creamery around midnight when a group of men began "whistling and meowing" at her. 
"I said, 'I'm only 14,' and almost in unison they said, 'We don't care,'" Natnovna wrote. "I was so fucking scared. I didn't know what to do and they kept talking about how I looked and how my body looked and what they would do. I was on the verge of tears. I was all alone in a huge mall; I knew I couldn't outrun them all. I felt totally hopeless."
Natnovna said a female maintenance worker intervened, cursing out the men and threatening to press a panic button. The worker stayed with Natnovna in the mall's basement garage until her mother arrived.
A 23-year-old named Celeste added another story related to sexual harassment to the thread, recalling a time when she was leaving a grocery store late at night. She said she saw an older man eyeing her, and she and another woman walking to her own car exchanged a knowing glance.
"She and I made eye contact and I knew she was scared too," Celeste wrote. "We loaded up our groceries into our cars as fast as possible, and I had way more bags than her so she got done faster than me." Celeste said she was worried the woman would drive away, leaving her alone in the parking lot with the man, but noticed the other woman stayed in her car, watching her and making sure she left safely. 
Celeste said the incident brought with it a kind of epiphany.
"And that was the moment that I realized how much women need other women," Celeste wrote. "That we can't win this war without each other and we have to be looking out for each other, every second."
Read more: Gross Brooklyn Construction Workers Will Now Be Held Accountable for Street Harassment
May 18, 2016, 6:24 p.m. Eastern: This story has been updated.
Correction: May 18, 2016