Banana milk is the non-dairy alternative your smoothies have been waiting for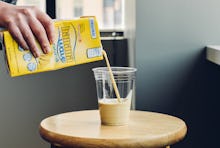 It's a great time to be someone who hates cows' milk: As Greg Focker says, you can get milk from just about anything these days. Almonds? Check. Soybeans? Check. Rice, oatmeal and flax seeds? Check, check and check.
So it should come as no surprise, maybe, that someone has figured out to milk a banana. Yes, that yellow fruit that you may or may not have been peeling wrong your whole life.
Banana milk is a very different thing than banana-flavored milk, which isn't lactose-free or entirely innovative. Banana Wave, a company founded by H.E. Neter Kush Ben Alkebulan, developed a drink that uses the whole fruit. It's vegan and is made up of around seven ingredients, plus some added vitamins and a bit of added sugar.
Banana Wave Bananamilk, which has 150 calories and 4 grams of protein per 8-ounce serving, contains bananas for flavor and potassium, non-GMO soybeans for protein, gluten-free oats for fiber and the drink's "milky texture," organic cold-pressed flaxseed oil for "brain focus," and sunflower seeds in the form of sunflower lecithin, which, some purport, enhances cognitive function.
"Some people believe that taking sunflower lecithin supplements may support brain health," Alissa Rumsey, registered dietitian and spokeswoman for the Academy of Nutrition, said in an email. But, as she noted, there's no science-backed research to support the claim. 
While the banana milk is comprised of mostly healthy ingredients, the added sugar knocks it down a few levels on the health scale. Tastewise, the drink tastes sweet enough, and probably could have done without the addition. 
To make it, all of the ingredients are blended and strained. Each four-cup container packs in four whole bananas, putting an entire banana in every cup. The beverage can be sipped straight from a glass, poured over cereal or used as a milk-substitute in baking. Alkebulan slugs back a serving for a pre-workout snack.
There are even more creative ways to get a banana milk fix: Pair it with a cup of coffee, or go real wild and concoct an adult beverage at home. "Younger people tell me that they have been using it with rum," Alkebulan said. Yup, sounds pretty good. The drink purportedly has a post-party benefit: "They say they are not hungover in the morning when they mix booze with the banana milk." That we'll have to test for ourselves.
As for how it tastes, there is no doubt this shi*t's got bananas (b-a-n-a-n-a-s). The scent of banana-flavored Laffy Taffy escapes the carton the instant you crack it open. Once it hits the tongue, the beverage can only be described as liquid banana bread.
Because of its sweetness, the drink might be hard to suck down straight from the glass, but it would make for a great base for a smoothie, or even oatmeal.
For Alkebulan, banana milk has a sweet history: It's something his grandmother used to make for him growing up. Alkebulan said he never thought much of the drink until he was in recovery after a severe motorcycle accident that occurred around a decade ago. He started looking into banana milk when he realized food could help heal him.
And so Alkebulan turned to banana milk as sustenance, and hasn't stopped since. He said the drink is a riff on an "ancient African recipe" that originates from the Kingdom of Kush, which occupied parts of what is now modern day Sudan and Egypt. 
So will we start seeing banana milk piña coladas and lattes soon? Possibly. For now, you can find Banana Wave Bananamilk online and at all Whole Foods across Florida, though Alkebulan says they will soon expand to other parts of the country.