Donald Trump Speculates Terrorism Is Responsible for EgyptAir Flight 804 Crash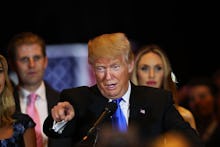 Just hours after an EgyptAir flight crashed somewhere over the Mediterranean Sea carrying 66 people, presumptive Republican nominee for president Donald Trump weighed in on the tragedy on Twitter.
Though the cause of the crash is unknown, with authorities telling media a number of possibilities were on the table, Trump jumped to his own conclusion: terrorism.
Read more: EgyptAir Flight 804 Has Reportedly Crashed Over Mediterranean, 66 People on Board
"Looks like yet another terrorist attack," Trump tweeted to his more than 8 million followers. "Airplane departed from Paris. When will we get tough, smart and vigilant? Great hate and sickness!"
While extremist Islamic terrorism has been responsible for a sharp uptick in incidents in recent months and the Islamic State group is believed to have targeted Egyptian aircraft in the past, public information is still emerging in this instance. As of this writing, Hillary Clinton has made no public pronouncements on the tragedy. 
On Thursday, EgyptAir changed the message on its homepage to say that the reason for the downed plane "hasn't been yet confirmed." 
None of the passengers were believed to be American. The Guardian listed the origins of the passengers on board as follows: "30 Egyptians, 15 French, two Iraqis, and one each from the U.K., Belgium, Kuwait, Saudi Arabia, Sudan, Chad, Portugal, Algeria and Canada."