Aerie Ditched Photoshopping Two Years Ago, And Sales Are Way, Way Up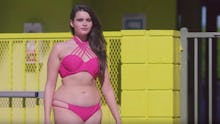 If anyone's still kinda wary of just how effective digitally altering photos really is: Here's proof. 
Aerie, American Eagle's loungewear offshoot, vowed that it would stop airbrushing images of its models back in 2014, effectively launching the #AerieReal campaign. Two years later, the company's sales have been continuously up, with sales in its first quarter of 2016 soaring by an astonishing 32%. 
Compared to this time last year, sales had increased 12%, and sales in 2015 overall were up by 20%. What that says about us as consumers? We really like to see bodies we can believe. 
"We definitely had a creative moment where the team got together, and we just said, 'really, what's happening today with millennials and the next generation?'" Aerie's president, Jennifer Foyle, told Business Insider. "And we really felt like girls today are just more independent and stronger than ever."
Coincidentally, the brand's most recent uptick in sales coincides with a few notable castings, like Iskra Lawrence — a model who runs the website Runway Riot, which promotes body positivity — and Barbara Ferreira, a curve model. So it's not just that Aerie has profited from putting truthful images of women in its advertisements and online — its profited from putting women of various sizes in its ads as well. 
Read more: Here's What Happened to American Eagle After It Stopped Airbrushing Its Models
Because Aerie models its products on a variety of body types, prospective customers can see what things like swimsuits and bralettes look like on a body type that may resemble their own. 
And over on social media, women are apparently thrilled. 
Comparatively, over the last two years, Victoria's Secret has gotten heat for campaigns touting the "perfect body," casting models that all have tall, thin bodies and for digitally retouching photos of its models. And currently, VS's business is stumbling, having recently announced that its annual swimwear catalog could be no more. 
With Aerie's sales soaring, it sends a clear message to other brands and retailers: What customers respond to is reality.