US Military Accused of Punishing Sexual Assault Victims in New Human Rights Watch Report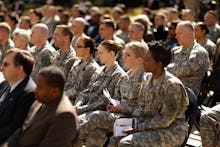 The United States military wrongfully discharges rape survivors while routinely avoiding punishing the accused rapist, according to a report published Thursday from Human Rights Watch. 
The report details the accounts of several members of the armed forces being discharged for "personality disorders," after being drugged and assaulted, including Juliet Simmons, Diana Gonzalez and Amy Quinn. 
At times, the 270 members of the military interviewed said they were accused of lying about their rape, while other times being told to stand at attention for six to eight hours a day as punishment for making the ordeal an issue to begin with, as in Amy Quinn's case.
The organization's detailed analysis of some of the military's rape cases was immediately denied by the military, which, in an email to CNN, accused HRW of not actually reviewing service records. As HRW notes, however, the military has been forced to provide several of the records they analyzed as public records. 
"All too often superior officers choose to expeditiously discharge sexual assault victims rather than support their recovery and help them keep their position," the report notes. "Very few sexual assault survivors we spoke to managed to stay in service."
Read the report here.
Read more: Military College Denies Muslim Cadet's Request to Wear Hijab at School