Donald Trump Just Accused Bill Clinton of Committing Rape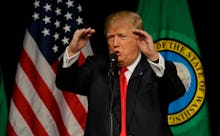 He went there.
On Wednesday, presumptive Republican presidential nominee Donald Trump sharply previewed a no-holds-barred general election strategy, using the word "rape" to describe Bill Clinton's interactions with women who have accused him of unwanted advances.
Speaking to Fox News host Sean Hannity about a New York Times piece on his private behavior toward women, Trump went after the former president and husband of his likely Democratic opponent, Hillary Clinton.
Read more: Juanita Broaddrick Speaks Out, Resurrecting Rape Allegations Against Bill Clinton
"You look at what Clinton's gone through with all of the problems and all of the things that he's done," Trump said.
The New York Times story said a battery of interviews with 50 women revealed Trump's track record of "unwelcome romantic advances, unending commentary on the female form, a shrewd reliance on ambitious women, and unsettling workplace conduct."
Hannity asked if the expected campaign against Clinton would include interviews with Juanita Broaddrick, Paula Jones and Kathleen Willey.
"In one case, it's about exposure. In another case, it's about groping and fondling and touching against a woman's will," Hannity said.
"And rape," Trump returned.
"And rape," Hannity echoed.
Through a lawyer, the former president denied in 1999 that he had raped Broaddrick. Clinton also denied harassing Jones, with whom he reached an $850,000 settlement in 1998 and he denied that same year that he had assaulted Willey.
Big picture: Trump went after his presumptive opponent's husband as behavior toward women remains a focus of the general election.
Clinton and her allies have called Trump out as a misogynist, lambasting him for years of sexist, derogatory comments about women — something he discussed in a primetime session with Fox anchor Megyn Kelly that aired Tuesday.
Trump has countered that he would in fact be the best candidate to represent women as president — and has labeled Hillary Clinton an "enabler" of her husband's misconduct who is playing the "woman card" in her second bid for the Oval Office.
In January, Broaddrick, a retired nurse, publicly resurrected her accusation that Bill Clinton raped her in 1978 while she was working as a volunteer on his Arkansas gubernatorial campaign.
The following month, Willey, who said Clinton made unwanted advances on her in 1993 when she was a White House volunteer seeking a paid job, reportedly joined an anti-Hillary Clinton campaign group.
Poll position: Trump took on the Clintons as a Wednesday Fox News poll showed him leading his likely Democratic rival 45% to 42%.
While the results were within the poll's margin of error, the outcome was a reversal from an April Fox survey that had Clinton leading Trump by seven points.
The latest poll showed Clinton handily beating Trump among female voters, but lagging with men, and found "majorities of voters feel both frontrunners lack strong moral values and will say anything to get elected."