Joe Biden Just Told Bernie Sanders' Critics to Calm Down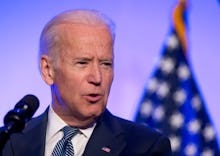 Uncle Joe says everything's going to be OK.
Speaking to reporters on Wednesday, Vice President Joe Biden said he wasn't worried about the prospect of an unbridgeable divide in the Democratic Party between supporters of Sen. Bernie Sanders and former Secretary of State Hillary Clinton as the primary season slogs on.
"I'm confident that Bernie will be supportive if Hillary wins, which the numbers indicate will happen. So I'm not worried," Biden said, according to MSNBC. "There's no fundamental split in the Democratic Party."
Read more: Everything You Need to Know About Bernie Sanders' War With the Establishment Over Nevada
The vice president's language of unity comes at a time when Sanders is immersed in a deeply acrimonious battle with the Democratic Party establishment over chaos that broke out at the Nevada Democratic convention last weekend.
A group of Sanders supporters overturned chairs and insulted party officials — and even left death threats on the state chairwoman's voicemail — after an unexpected change to allocation rules for delegates that Nevada will dispatch to the Democratic National Convention in July. The dispute has generated angst among many figures in the Democratic Party who fear that Sanders' continued bid is tearing the party apart when it should be focused on the looming general election battle against presumptive Republican nominee Donald Trump.
Biden said that Sanders is "going to have to be more aggressive in speaking out" about his supporters' disruptions and harassment should it happen again, but that his generally positive opinion of Sanders — and his desire to stay in the race until the end of the primary — was unchanged.
"Bernie Sanders is a good guy. Let Bernie run the race. There's nothing wrong with that," he said, according to MSNBC.
Sanders and his staff have condemned the violence and called for civility, but they've continued to maintain an antagonistic stance toward the party establishment, calling for it to "open its doors" to Sanders' supporters.