Khloé Kardashian Has a Fun Lil' Tip for Spicing Up Your Sex Life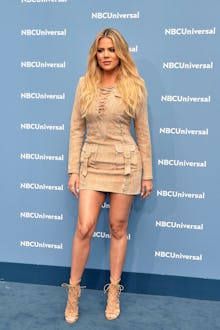 It's one of life's most enduring questions: How do you keep the spark alive in a long-term relationship? Movies, books, pop songs and even academic studies have all sought to find the answer.
But screw all those things! Life coach and relationship expert Khloé Kardashian has finally decided to share the real secret to maintaining long-term sexual chemistry:
A latex catsuit, duh.
In a new post on her website and app, Kardashian dished about what she's learned from her past long-term relationships. Her initial advice focused on how important it is to never stop "dating" your significant other, even if you've been together for half a century. 
"You don't have to completely rearrange your schedule to fit in a traditional 'date night,'" she wrote. "If you don't have a lot of time, just do one thing with your S.O. every day," such as going to the gym or going grocery shopping together. Groceries. Yawn. 
But then shit got interesting when Kardashian advised readers to find inspiration from that time in 2013 when she decided to spice things up in her marriage to Lamar Odom by hanging from the ceiling in a black latex catsuit.
"The moves were really simple but it felt sexy," she wrote. "If you're looking to amp up your love life, I highly recommend a fun photo shoot!"
Indeed, many experts would agree that a good way to reinvigorate a monogamous sex life is to step outside your comfort zone and try something new. Whether that involves doing aerial acrobatics in a latex catsuit or just investing in some fuzzy handcuffs and calling it a day is up to you.