Netflix's New Site Is a Giant "F*ck You" to Comcast and Time Warner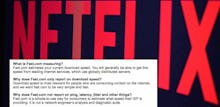 One of the easiest ways figure out if a WiFi connection is slow is to pop open Netflix and see how fast something will load.
Now Netflix is getting a little more scientific. Netflix launched a site late Wednesday night called Fast.com, where — in one click — anyone browsing the internet can see how fast their internet speed is. The site checks to see how fast an internet connection can download information from Netflix's servers.
The reported speed can be compared against whatever you're paying for, whether it's a simple 10 mbps plan or a glitzy fiber optic package that promises 100 mbps.
The ongoing fight: Netflix uses up a lot of internet — some estimates say more than a third of all bandwidth used in North America is from people binge-watching.
This is a point of strife between Netflix and internet service providers. The war for net neutrality is fought over whether ISPs can select services like Netflix and control how fast download speeds are to those sites.
Creating a site like Fast.com could lead people to pick up the phone, call Comcast, Verizon or Time Warner and ask, "Why is Netflix downloading way slower than promised?" And that's just the way Netflix wants it.