Rage Against the Machine, Public Enemy and Cypress Hill Reportedly Forming a Supergroup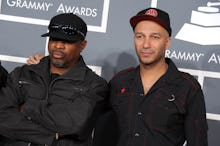 Rage Against the Machine, one of the gold standards of all that is angry and political in music, crept back into the zeitgeist Tuesday night. The band launched a website Prophets of Rage, counting down the days, minutes and seconds until 10 a.m. June 1, when the mysterious group planned to somehow #TakeThePowerBack. 
Yet mysteries don't last long on the internet in 2016. Two days later we have a much better idea of who these prophets are and what they plan to do. Sources have told Billboard that Prophets of Rage are a supergroup consisting of all of Rage Against the Machine's instrumentalists — guitarist Tom Morello, bassist Tim Commerford and drummer Brad Wilk — with RATM's singer Zach De La Rocha swapped out for MCs Chuck D of Public Enemy and B-Real of Cypress Hill.
The timing could not be more perfect. Public Enemy and Rage Against the Machine are two of pioneers of punk-inspired, hip-hop informed no holds barred protest music we see now in groups like Run the Jewels and Death Grips. With the election looming, they'll undoubtedly have a ton of political posturing to rage against.
The name "Prophets of Rage" comes from a Public Enemy song by the same, while the hashtag "Take the Power Back" is the from a Rage Against the Machine track. 
As of yet, there's no word of an album. According to Billboard, the band is set to debut at the Hollywood Palladium on June 3, with another show — Los Angeles' Whisky a Go Go — planned as well. The band is also considering a 2016 summer tour.