Billboard Music Awards 2016: Here Are the Nominees in Every Category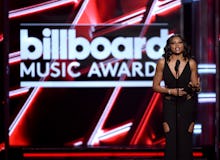 Though the awards season is winding down, the 2016 Billboard Music Awards — the Grammys' chiller cousin — are coming up. The show, hosted at the T-Mobile Arena in Las Vegas, will air live starting at 8 p.m. Eastern on May 22 on ABC with hosts Ludacris and Ciara.
Viewers can also look forward to performances from Britney Spears, Justin Bieber, Rihanna and Demi Lovato, among others, and Madonna will perform a tribute to Prince. 
The Weeknd has the most nominations going into the awards show, with 19 total across 16 categories, including top male artist, top artist and top R&B artist. Justin Bieber is the second-most nominated artist this year, with 12 nominations in 11 categories. 
A full list of this year's Billboard Music Awards nominees in every category is available below.
Top Artist
Top New Artist
Top Male Artist
Top Female Artist
Top Duo/Group
Top Billboard 200 Artist
Top Hot 100 Artist
Top Song Sales Artist
Top Radio Songs Artist
Top Streaming Songs Artist
Top Social Media Artist
Top Touring Artist
Top R&B Artist
Top Rap Artist
Top Country Artist
Top Rock Artist
Top Latin Artist
Top Dance/Electronic Artist
Top Christian Artist
Top Gospel Artist
Top Billboard 200 Album
Top Soundtrack
Top R&B Album
Top Rap Album
Top Country Album
Top Rock Album
Top Latin Album
Top Dance/Electronic Album
Top Christian Album
Top Gospel Album
Top Hot 100 Song
Top Radio Song
Top Streaming Song (Audio)
Top Streaming Song (Video):
Top R&B Song
Top Rap Song
Top Country Song
Top Rock Song
Top Latin Song
Top Dance/Electronic Song
Top Christian Song
Top Gospel Song