9 in 10 Native Americans Aren't Offended by the Redskins. But About That 1 in 10...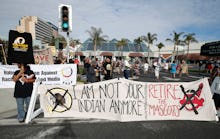 On Thursday, the Washington Post published the results of a new poll which found 9 out of 10 Native Americans say they are "not bothered" by the Washington Redskins' name. 
According to the survey, 78% of the 504 Native Americans surveyed nationwide said the issue of the Redskins' name — a name which a U.S. judge maintained in 2015 "may disparage Native Americans and bring them into contempt or disrepute" —  was either "not too important," "not at all important" or had "no opinion.
But don't take the Redskins memorabilia you've been hiding in your Problem Attic out of storage just yet: Native American activist Susan Harjo, the "driving force" behind the legal action against the Redskins' trademark, called the entire poll into question. 
"I just reject the results" she told the Post. "I don't agree with them, and I don't agree that this is valid way of surveying public opinion in Indian Country."
Read more: Native American 'Teen Vogue' Model Daunnette Reyome on Cultural Appropriation in Fashion
Some Twitter users found the results similarly suspect, suggesting the "9 in 10" number is best suited to the United States genocide of Native Americans:
One Twitter user pointed out the dubiousness of polls, sharing a 2014 study from California State University at San Bernardino, which determined 67% of Native Americans agreed "the Redskins team name is a racial or racist word and symbol." 
In spite of this, those more willing to take the results of the Post's poll at face value chalked up the legal battles and heated debates over the name to white liberal outrage, asserting that the statistics confirmed what they believed all along — case closed.
But here's what these critics of outrage over the Redskins' name are missing: In 2014 thousands of Native Americans protested outside of a Redskins game with signs reading "Change the Name Now" and "Stop Racism in the NFL," according to a story from the Post at the time. 
The year before, the Oneida Indian Nation launched a "Change the Mascot" campaign and met with officials from the NFL. And Native Americans are at the helm of a lawsuit alongside Harjo, insisting that the team's trademark be revoked. 
But though the Washington Redskins' controversial nomenclature may be the Native American issue most prevalent in mainstream culture, it isn't the only one — or even the most harrowing. Many used the results of the Post's new poll to insert the other, greater issues from within the Native American community into the larger cultural conversation.
Rusty Whitworth, a Native American who lives on the Flathead Indian Reservation in Montana, told the Post, "Let's start taking care of our people and quit worrying about names like Washington Redskins."