Want to Watch Porn? The UK Government Says You Need a Credit Card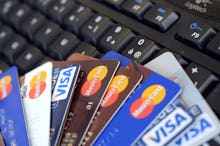 The queen wants to talk about porn. 
During the 2016 Queen's Speech at the state opening of Parliament, a Digital Economy Bill called for a U.K.-wide legal right to high-speed broadband connection and stricter regulations on porn sites. Sorry minors — your explicit web pursuits on the new speedy net are futile. 
According to the bill, the government will require everyone to register to access websites with pornographic material. They will have to verify they are over 18 and might even have to input their credit card details, Independent reported.
This isn't confined to just sites dedicated to pornographic content — it applies to all websites that may include pornographic material. 
Verifying your age through use of a credit card — which is a verification process used on gambling sites — seems like a good way to get hacked. PornHub, YouPorn, XHamster and Redtube have all been infected by a malware attack. If porn sites are susceptible to viruses and hackers, inputting your credit card information could make your bank account vulnerable to attacks. 
Verification aside, trying to make porn more difficult to access for minors isn't unique to the U.K. Utah recently declared porn a "public health crisis" and state Sen. Todd Weiler is drafting legislation that will force phone manufacturers and public libraries to put porn-blocking filters on their devices.
The reason? It's detrimental to young minds. According to Independent, the government has "repeatedly" tapped into studies that show a correlation between the availability of porn to children and the damage it can do to them. 
But the bans to access also come under fire by free speech campaigners who argue that these prohibitive courses of action limit personal freedoms and shouldn't be determined by the government. 
But the queen has spoken, so parents should probably stash their credit cards in a safe place.