These Iranian Models Are Being Targeted by the Government for Posing Like Kim Kardashian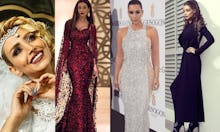 The Iranian government is continuing to crack down on citizens using Instagram, while simultaneously investigating Kim Kardashian West as a spy for the photo-sharing app determined to corrupt Muslim women throughout the country. 
So far, eight people have been arrested and well over 150 others with ties to the fashion and modeling world have been identified by the Iranian Centre for Surveying and Combating Organized Cybercrimes, according to a report from the International Campaign for Human Rights in Iran published Wednesday. 
Makeup artist Elnaz Golrokh and her husband Hamid Fadaei were forced to leave Iran and move to Dubai after the model and online personality uploaded photos without her headscarf. 
"Unfortunately for the moment I will not be active in Iran, but I will continue my work outside Iran. Thanks for your support and your positive energy. I love you," she wrote on her Instagram. She'd like to come home, however, and bring with her "the most up-to-date international services and increase the level of the cosmetic industry."
Elham Arab, an Iranian model famous for posing in wedding dresses with her platinum blonde hair, appeared in a Tehran court dressed in all black, denouncing her use of Instagram and saying "good boys will never choose a model as their bride," according to the report — an apology that seemed suspicious to the international human rights group. 
The government organization's spokesman Mostafa Alizadeh has already stated Iran is taking the possibility of Kardashian West being a spy "very seriously," and that "sterilizing popular cyberspaces" is all part of the country's mission to eradicate Instagram and other platforms from within their borders.
Iran's stringent laws on women wearing headscarves date back to 1979. Using Instagram, Facebook and other social media sites is also strictly forbidden in the Islamic nation, and a woman posing for a photograph without a headscarf is an offense punishable by jail time or lashes, among others. The Iranian government believes social media personalities in their country who resemble Kardashian West in likeness and online presence are responsible for Iranian women thinking they too can pose without headscarves — they even allege they're doing so on purpose. 
Read more: Kim Kardashian West Is a Mind-Corrupting Spy, According to the Iranian Government