This 54-Year-Old Custodian Just Graduated From the College He Spent Years Cleaning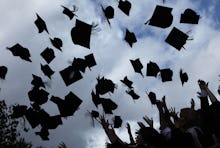 When Michael Vaudreuil's once-booming plastering business went under in 2008, during the economic recession, he took the only job he could find — working full-time as a night custodian at Worcester Polytechnic Institute (WPI), a college near his home in Massachusetts.
The job paid 50% less than what he had been making, the Washington Post reported on Wednesday, but it came with some perks, including free undergraduate classes. So the father of three went back to school. 
"The thought process was: This is it for me," Vaudreuil told the Boston Globe. "This is the last train out of the station. Your back's against the cliff. You either jump off, or you fight for your life."
For the next few years, Vaudreuil took classes during the day and then spent his night shift, from 3 p.m. to 11 p.m., cleaning bathrooms and washing floors, the Post reported. And he even took on extra work — when he realized that he needed help brushing up on algebra so he could get through his calculus class, he "self-taught himself through YouTube videos."
On May 14, in front of his wife, Joyce, and his three children, Vaudreuil walked across the stage wearing his cap and gown, and accepted his diploma. He was 54.
"Mike could have stopped at any time. But he did not give up," WPI President Laurie A. Leshin said during her address to last week's graduates, the Post reported. "And today, at the age of 54, Mike will receive his bachelor's degree in mechanical engineering. That's perseverance ... We are so proud of you, Mike!"
Read more: This Sweet Photo of a Deaf Whataburger Employee Is Going Viral