Oklahoma Legislators Pass Bill That Would Make Performing an Abortion a Felony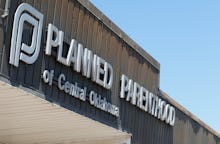 Legislators in Oklahoma just voted 33-12 in favor of a bill that would make performing an abortion in the state a felony. 
The bill, SB 1552, would also make it legal to revoke the licenses of doctors who perform abortions in the state.
According to Oklahoma's News 9 and wire reports, the bill now goes to Republican Gov. Mary Fallin, who will decide whether or not to sign it into law.
In an April press release issued in response to the bill's passage in the Oklahoma House of Representatives, the Center for Reproductive Rights alluded that the measure may be unconstitutional under Roe v. Wade.
"Oklahoma politicians have made it their mission year after year to restrict women's access to vital health care services, yet this total ban on abortion is a new low," Amanda Allen, senior state legislative counsel for the group, said in the release. "When abortion is illegal, women and their health, futures and families suffer."
Planned Parenthood also voiced its discontent with the bill in April, tweeting, "Not content with intruding in your personal decisions, OK gynoticians now want to revoke med licenses of doctors."
This story is breaking news and will be updated.
May 19, 2016, 2:02 p.m. Eastern: This story has been updated.
Correction: May 19, 2016