Cards Against Humanity Is Giving Full Tuition Scholarships to Female Students in STEM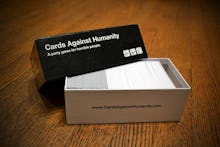 Cards Against Humanity is doing more than just equal-opportunity offending. 
The wildly popular card game has awarded incoming University of Pennsylvania freshman Sona Dadhania a full-ride scholarship to pursue Materials Science and Engineering, estimated to be worth about $150,000, according to Slate.
Dadhania is the first recipient of the company's so-called Science Ambassador Scholarship, which was started to empower more young women to join the notoriously gender-gapped STEM (science, technology, engineering and math) field.  
"Several of us at Cards Against Humanity have backgrounds in science and technology, and underrepresentation of women in STEM fields is a glaring problem we've seen ourselves," Cards Against Humanity community director Jenn Bane said in a company press release. "That's why we decided to both fund a woman's undergraduate education and carve out a public space for women in science to discuss what they're passionate about."
To fund the scholarship, Cards Against Humanity sold a special "Science Pack," which raked in $850,000 for the trust.
Over 1,000 students applied with video submissions, which were judged by a panel of 60 women who work in STEM. Dadhania's submission included a three-minute video in which she discusses nanotechnology. 
The Washington Post reports that fewer than 20% of STEM bachelor's degrees are earned by women.
So, next time you feel a pang of guilt about the less-than-P.C. things you've said during Cards Against Humanity, you can soothe your conscience with Dadhania's reaction to hearing the good news:
Read more: Women's Audio Mission Wants to Close the Gender Gap in Music Production