Dominican, Trans Model Laith Ashley Covers Gay UK Mag Targeted by #GayMediaSoWhite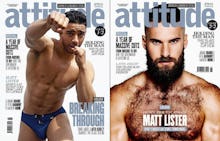 After receiving criticism for featuring way too many straight, white, cisgender men on its covers, UK gay magazine Attitude changed its tune and featured Dominican, trans model Laith Ashley on its June issue's cover. 
Ashley shared a snap of the cover on his Instagram Thursday afternoon. According to Attitude, Ashley shares June's cover with out gay British canoeist Matt Lister. 
Ashley, 26, told Attitude he struggled with his gender identity for years, but has learned to love himself. 
"I still struggle with that from time to time but remind myself I'm pretty blessed," Ashley told Attitude. "I have a family who are supportive. They may not agree with who I am, but they do love me. I had the privilege of going to school. I have the privilege of this experience. I love who I see in the mirror now."
Ashley is with Slay Model Management and was "one of the first trans male models to appear in a national campaign," according to NewNowNext. He was featured in the Window's "Brothers, Sisters, Sons and Daughters" series.
Criticism of gay news magazines — including Attitude and Out — began in March after queer rapper Mykki Blanco blasted gay magazines for featuring too many white men on their covers. Those who read the tweets began using the #GayMediaSoWhite hashtag in response.
Attitude's decision to feature Ashley on its cover signals that the magazine may have absorbed the criticism it received in April, when it chose straight, white actor Ben Hardy to appear on the cover of an issue containing a special feature on LGBT media and race.
The move came not only right after the #GayMediaSoWhite conversation, but also after Attitude fared poorly in an analysis of its covers, which found the magazine featured cis, straight, white men more than LGBTQ people of color.