Hillary Clinton: "I Will Be the Nominee"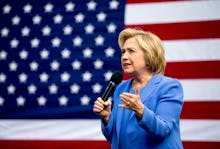 Democratic presidential frontrunner Hillary Clinton all but declared victory over challenger Bernie Sanders on Thursday, saying in an interview that given the delegate math, her nomination is essentially a foregone conclusion.
"I will be the nominee for my party," the former secretary of state told CNN's Chris Cuomo. "That's already done, in effect. There's no way that I won't be."
The numbers bolster Clinton's case. She's now won 2,293 of the 2,383 delegates needed to win the nomination compared to Sanders' 1,533 — meaning she needs to win less than 10% of the remaining delegates up for grabs.
While Clinton appears to have just barely defeated Sanders in Tuesday's Kentucky primary and has sustained defeats to the Vermont senator in recent primaries in Oregon, West Virginia and Indiana, she noted that her ill-fated 2008 bid was also marked by successes in later-voting states, though it wasn't enough to defeat then-Sen. Barack Obama.
Read more: Joe Biden Just Told Bernie Sanders' Critics to Calm Down
Sanders' campaign hit back at Clinton's comments on Thursday afternoon, issuing a statement declaring that the senator's recent victories point to voters' "growing doubts about the Clinton campaign."
Clinton also told Cuomo that she was confident Sanders' supporters would coalesce behind her candidacy as the focus turned to the general election battle against presumptive Republican nominee Donald Trump, even as Sanders backers go to war with the Democratic establishment after last weekend's heated Nevada state convention.
"When I came out and withdrew and endorsed Sen. Obama ... according to polls, about 40% of my supporters said they would never support him," Clinton said. "So I worked really hard to make the case, as I'm sure Sen. Sanders will, that whatever differences we might have, they pale in comparison to the presumptive nominee of the Republican Party."
Meanwhile, Clinton pronounced Trump unqualified to serve as president, attacking him as an unsteady hand to lead the country on the global stage.