Indonesia Drafts Law That Would Punish Pedophiles With Chemical Castration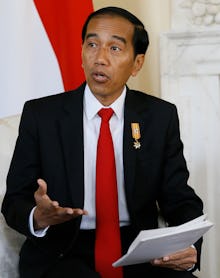 The Indonesian government is drafting up a law that would harshen the punishments on child sexual abusers, according to Vice. Called Peraturan Pemerintah Pengganti Undang-Undang, the law comes at a time when the nation is in a state of emergency regarding sexual violence against children.  
The stricter crackdowns are being seen as a last resort to deter people from committing such rampant crimes. The law would extend prison times to 20 years and expand punishments to include death sentences and, for convicted pedophiles and rapists, the possibility of chemical castrations. Newly released prisoners will also be embedded with a microchip for tracking. 
"As this type of crime is on the rise, in the cabinet meeting we have included the crime as an extraordinary crime and it must be tackled with extraordinary means, as well," Indonesian president Joko Widodo said, according to the Indonesian paper Kompas. "Our attitude and actions will have to be extraordinary, too."
Currently, the maximum prison sentence for rapists in Indonesia is 15 years, according to Digital Journal. 
Chemical castration is the use of medication, such as injections or oral pills, to eventually null someone's sex drive by reducing testosterone. But chemically lowering someone's testosterone can leave them with physical side effects, such as fatigue, insomnia or fragile bones. It's also arguably a physical answer to a psychological battle. 
Australia, Poland and Russia currently use chemical castration as punishment for sexual offenders. In the United States, some states like California, Iowa and Montana allow chemical castration in some form. 
Not everyone thinks that the threat of castration is going to be effective — and many find it to be borderline inhumane. "Castration is a punishment that's predicated on vengeance and hate, and not on the philosophy of modern jurisdiction that will help abusers reintegrate themselves with the community," Indonesia's Community Legal Aid Institute said in a press release translated by Vice. 
Instead, critics of the law argue that the government should focus on the fact that the victims' families can't afford the costs of taking these cases to court, Vice reported. 
Still, cases of sexual abuse in Indonesia are getting progressively more brutal. Earlier this month, a 14-year-old girl was gang-raped and killed by a group of 14 boys while walking home from school in Bengkulu, Vice reported. And on Monday, three young men gang-raped and killed an 18-year-old woman in Tangerang, the Jakarta Post reported. 
Read more: This Crowdfunding Campaign Is Supposed to Treat Pedophilia. What It Does Is Much Worse.