Drake Just Passed Another Music Milestone That Even Beyoncé Hasn't Reached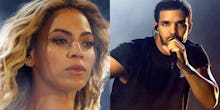 The Beyhive will come out swinging once they hear about this — Drake's Views album just broke a million sales, the first album to do so in 2016, according to Uproxx. Beyoncé's Lemonade, currently sitting right behind the Canadian rapper's latest release on the charts, is edging closer to the monumental accomplishment each day, but isn't quite there yet.
Drake, the former childhood actor turned beloved emotional hitmaker, should never have released his album so soon after Beyoncé's and created such a disaster for the kingdom. Drake's album has moved 1.03 million copies in just two weeks since its premiere on the rapper's Beats 1 radio program, OVO Sound Radio. 
It's unclear how Queen Bey is responding to the news, but here's a GIF of Bey clobbering a car with a bat that probably best sums up how she might feel:
None of this means Beyoncé's Lemonade wasn't a critical success — it was. Her album helped Jay Z's streaming service Tidal gain 1.2 million subscribers, according to company representatives who spoke with Mic. Lemonade premiered at No. 1, making Beyoncé the only artist in music history to have her first six albums debut at the top of the charts. 
Her sixth album was sitting pretty as the No. 1 album before being knocked down a notch by Views.
Oh, and just in case anyone was wondering, Rihanna's Anti trails both megastars as No. 7 on the charts.
Read more: As Fans Celebrate Drake's 'Views From the 6,' Here's How the Rapper Became Famous