Ariana Grande's New Album 'Dangerous Woman': Streaming, Download, Track List and More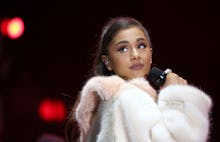 At midnight Friday, singer Ariana Grande dropped Dangerous Woman, her third studio album. The 15-song LP features multiple artists such as Lil Wayne, Nicki Minaj and Macy Gray. The album is available for streaming on Spotify and for purchase on iTunes. 
And Grande's mother wasn't the only one who was pleased with the album. By Friday morning, the album, formerly known as Moonlight, had surged to No. 1 on iTunes.
When asked over Twitter about the album's cover art in which she dons a leather bunny mask and ears, Grande replied: "I feel like DW is a heightened, super version of myself so I wanted her to have a costume. the shot callllller/boss."
She also tweeted to fans that she wanted to make every song special, and that the album's goal was "to make the best body of work" she's capable of.
Grande had already released multiple singles: "Let Me Love You," "Dangerous Woman," "Be Alright" and "Into You." 
Below is the track list for Dangerous Woman: 
1. "Moonlight"
Read more: Ariana Grande's Mother's Reaction to Her Daughter's New Album Is Priceless