A Middle Schooler Was Just Arrested for Coercing Girls Into Sending Him Nude Photos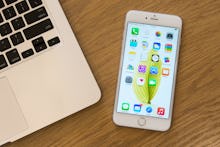 Over the course of about seven months, a 14-year-old student from Manhattan's Simon Baruch Middle School allegedly sent photos of his penis to multiple girls and threatened to "expose" them if they didn't send him their own nude pics — and now, he'll go to court for it.
According to DNAInfo, police arrested the boy the afternoon of May 12, at his school on charges of "promoting a sexual performance by a child, sex abuse, coercion, and obscenity." Though the police report didn't specify a number of victims, it said at least some of them were the boy's classmates and that he sent the photos via Snapchat.
The news site reported that the 14-year-old also masturbated in front of multiple girls using Facetime and later forced a girl to touch his penis during the school day.
The student will be tried as a juvenile in his case, which police referred to family court.
"This is an alarming incident," Toya Holness, the city's Department of Education spokeswoman, told DNAInfo. "School staff immediately notified authorities and it's being investigated. Nothing is more important than the safety and security of all students and staff, and we are providing ongoing supports to the school."
Read more: In Honor of #NationalSendaNudeDay, Here Are the Real Reasons Why Men Send Dick Pics