Billboard Music Awards 2016: What to Know About Performances and Latest Controversies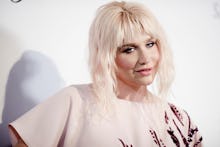 The 2016 Billboard Music Awards will be broadcast live from Las Vegas on Sunday, May 22 beginning at 8 p.m. Eastern. With a long list of celebrity names in attendance and a stellar set of performances in store, it promises to be a show well worth watching. Music fans can head to ABC for a livestream of the event, which will be co-hosted by Ciara and Ludacris. But before tuning in for the Billboard Awards, there are a few big things to be aware of. 
Will Dr. Luke heed Lady Gaga's demands and give Kesha her voice back? Will anyone crash Madonna's Prince tribute? What will Adele's music video look like and what will Britney sing? So many questions; here's the latest.
1. Kesha will be performing.
After much back-and-forth, it seems Kesha will be performing at the 2016 Billboard awards. The singer had reportedly planned a "statement performance" — which turned out just to be a rendition of Bob Dylan's "It Ain't Me Babe" — which Dr. Luke, the producer Kesha has accused of sexual and emotional abuse, shut down. His label, Kemosabe, has since restored its approval, according to Billboard, so the singer may take the stage after all.
2. Madonna will pay a very controversial tribute to Prince.
Despite internet backlash, Madonna will be performing a Prince tribute at the awards ceremony. According to USA Today, she approached Billboard and asked if she could do the honors. Fans of the late iconic singer have suggested a number of black artists — Chaka Khan, Lenny Kravitz, Mint Condition, Sheila E — arguing that they would be better suited to the job, and have even circulated a Change.org petition to further the cause. Billboard, however, stands by Madonna, and hasn't released word on what her performance will include.
3. Celine Dion will receive the 2016 ICON Award.
Celine Dion, who boasts 17 albums on Billboard's Top 200 chart, is being honored with 2016's ICON Award — past recipients of which include Jennifer Lopez, Stevie Wonder, Neil Diamond and Prince. She'll also be performing Queen's "The Show Must Go On," which, according to TMZ, as a tribute to her recently deceased husband, René Angélil.
4. Adele will premiere her latest music video.
During the broadcast of the 2016 Billboard awards, British pop sensation Adele will debut the music video for "Send My Love (to Your New Lover)," the latest single off her record-shattering album, 25. Adele teased fans with a preview of the video in a tweet on Monday. 
5. It's Britney, bitch.
Britney Spears will take a break from her Las Vegas residency to give a guaranteed-to-be-nostalgia-inducing performance at the Billboard Awards. The early-aughts pop queen will open the show with medley, according to a set list shared by Perez Hilton Wednesday via Instagram. If what the celebrity blogger says is true, fans can look forward to "Toxic," "Slave for You" and a Crossroads throwback in the form of "I Love Rock and Roll." Spears will also be receiving Billboard's Millennium Award. Welcome back, Brit.
Read more: Billboard Music Awards 2016: Here Are the Nominees in Every Category