Millennials Give Hillary Clinton Only Tepid Support Over Donald Trump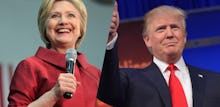 Millennial voters would overwhelmingly back Bernie Sanders in a head-to-head contest with presumptive Republican presidential nominee Donald Trump, but the contest between Trump and likely Democratic nominee Hillary Clinton is much closer, a new poll finds.
According to a CBS News/New York Times national survey released Thursday, Sanders would best Trump 66% to 25% among voters between the ages of 18 and 29, indicating that the robust support the Vermont senator has received from young voters in his primary bid would extend to the general election. But Clinton only leads Trump 47% to 34% among those voters — a sign she may struggle to win over some of Sanders' most fervent supporters.
Read more: Hillary Clinton: "I Will Be the Nominee"
Clinton does best among voters between 30 and 44, with whom she leads 56% to 32%. But even among that group, Sanders does better, thumping Trump 61% to 28%. The former secretary of state narrowly trails Trump among voters over the age of 45.
Other polls have suggested Clinton would do better among millennials. A Harvard Institute of Politics survey found in April that Clinton would defeat Trump 61% to 25% with voters 18 to 29 years old.
The big picture: Overall, Clinton leads Trump 47% to 41% nationally, according to the CBS/Times poll, though that lead is down from her 50% to 40% advantage in April — a result that dovetails with a tightening race in other surveys. According to the RealClearPolitics polling average, Clinton's lead over Trump has narrowed to just 46% to 43%, down from about 50% to 39% in late March.
Sanders, meanwhile, led Trump 51% to 38% in the CBS/Times poll, while the RealClearPolitics average finds the senator with a 51% to 39% advantage over the Manhattan real estate tycoon.
As Clinton looks to seal the nomination after the California primary on June 7, her prospects for uniting the party look a bit better than then-Sen. Barack Obama's did eight years ago. At a similar point in 2008, the CBS/Times poll found that 60% of Clinton's supporters were prepared to cast ballots for Obama after the pair's bruising primary battle. This time, 72% of Sanders voters say they'll pull the lever for Clinton — but resistance may be greatest among the youngest.