Elizabeth Warren Claps Back at Donald Trump: Voters "Are Smarter Than You Think"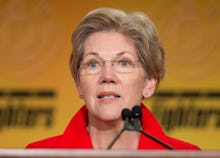 The Elizabeth Warren-Donald Trump feud is back.
The progressive stalwart and the presumptive Republican presidential nominee reignited their Twitter war Thursday night, with Warren taking Trump to task over his comments in support of abolishing the federal minimum wage.
Read more:
A little more than one week after Trump said Warren "lied" by charging that he'd supported ending the federal minimum, the Massachusetts senator and potential Hillary Clinton running mate fired back with a new PolitiFact report corroborating Warren's claim.
Sounding themes similar to her other scathing attacks on the GOP standard-bearer, Warren proceeded to lambaste Trump as "troll[ing] for votes" and predict that working Americans would reject the billionaire populist's campaign.
Warren's war of words with Trump suggests she'd relish the attack dog role typically filled by vice presidential running mates — and in an interview with Mic this month, Warren wouldn't rule out the possibility of joining Clinton's ticket. The Huffington Post subsequently reported that Warren's willingness to take on Trump has boosted her standing in the veepstakes in the eyes of key Clinton aides.