The House Just Paved the Way for Government Contractors to Fire LGBT People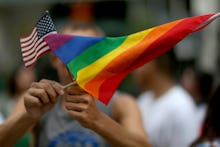 When the U.S. House of Representatives passed the National Defense Authorization Act late Wednesday, it passed a provision that will open the door to discrimination against LGBT workers should it pass in the Senate. 
Oklahoma Republican Rep. Steve Russell introduced the provision, which undoes the progress President Barack Obama achieved when he signed an executive action in 2014 protecting government contractors from discrimination based on their sexual orientation or gender identity. 
The provision allows contractors to circumvent Obama's executive action for religious reasons. If the bill passes as is in the Senate, contractors who don't want to hire LGBT people for religious reasons will be able to do so. 
The bill passed 277-147, with heavy Republican support. But, several members of the House have already spoken out against the bill's passage. 
According to the Huffington Post, Minority Whip Steny Hoyer was "outraged" by the provision while former House Speaker and current Minority Leader Nancy Pelosi said it was "stunning" that Republicans would slip language into a defense bill to "codify hatred and intolerance against Americans based on their sexual orientation or gender identity."
On Twitter, California Democratic Rep. Mark Takano criticized the bill's anti-LGBT language.
The Obama administration promised to veto the bill should it reach the president as is — mostly for not being a good defense bill. But, the White House indicated it was none too happy about the stunt.
According to the administration's memo, the bill misuses funds regarding Guantanamo Bay, military pay raises and base closures. White House Press Secretary Josh Earnest told reporters Tuesday there was no one reason to veto the bill. 
"There are a whole lot of reasons why the bill is bad," Earnest said, the Huffington Post reported. "It's unfortunate that it is being larded up with a bunch of proposals ... that aren't related to our national security but are intended to be divisive."
Requests for comment to Russell and the House LGBT Equality Caucus were not immediately returned.