These Groovy Dads Dancing With Their Babies Shatter the "Macho Man" Stereotype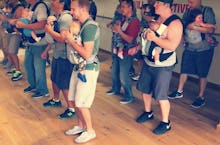 Moms are for intimacy, warmth and special bonds.
Dads are for money, sports, fixing a flat tire and scaring off boyfriends. 
But a group of groovy dads completely destroyed the macho dad stereotype...
By strapping their babies to their chests and getting down on the dance floor to Wild Cherry's "Play That Funky Music."
The perfectly synchronized dance session went down at San Diego's GroovaRoo Dance, a "funky baby-wearing line dance classes for new mamas, papas and their little 'joeys'."
"Just love this dad/baby interaction!" Facebook user Marlen Maples commented on the viral video. "If only this had been an acceptable bonding activity back when we older folk were young!"
You can't tell, but the babies are all having the time of their lives and are super proud of their dads for redefining the father's role one baby-equipped dance move at a time. 
Because it's 2016 — dads should be celebrated for dancing (and showering) and forming a "motherly" bond with their children.
Watch the whole video here.