This Legally Blind Woman Got to See Her Daughter's Wedding, Thanks to Science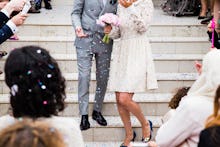 One of Pennsylvania resident Joy Hoke's biggest fears was that she would never be able to see her daughter, Lauren, walk down the aisle at her wedding. "I'm legally blind," Hoke told ABC News. "I can't drive. I can't work. I can't read and then I'm not going to be able to see my daughter get married or see my grandbabies."
But on May 7, Hoke watched Lauren get married through a pair of high tech glasses that made it possible for her to see her daughter's big day — and her friends and family made it all possible. The answer was eSight, a headset that turns real-life events into a video that the visually impaired can actually watch. 
Hoke lost vision in her left eye in 2013, because of a condition called non-arteritic anterior ischemic optic neuropathy, or NAION. A year later, she was declared legally blind in her right eye too, also because of NAION, reported ABC's Good Morning America Wednesday. 
It was Hoke's husband, Dave, who first heard about the eSight headset that could make it possible for his wife to see again. The glasses work by capturing images in a live video, and then displaying the video inside the headset in a way that makes it easier for people who are visually impaired to see.
Back in April, the same headset made it possible for a little boy to see his mom for the very first time. But a eSight headset cost $15,000, and it wasn't covered by insurance. So Hoke's friends and family set up a GoFundMe to raise money to cover the cost of the glasses.
They wound up raising even more than their goal, and were able to donate some of the extra money to help another woman buy the glasses for herself. Hoke got her eSight headset "at the end of 2015," GMA reported.
"Every morning I'd wake up and tears would start streaming down my cheeks," Hoke told ABC News. "I could not believe it."
Read more: This Sweet Photo of a Deaf Whataburger Employee Is Going Viral