Review: Ariana Grande Doesn't Care If You Understand Her 'Dangerous' New Self or Not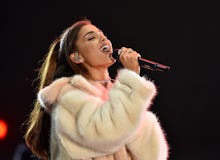 Nickelodeon star. Diva. Donut-licker. 
Ariana Grande has been pinned with many labels over the course of her decade-long career, and none of them have suggested "dangerous" in any way. The insults thrown her way have pinned her as being more of a 12-year-old rather than a queen of her craft. It's likely why she's faced such skepticism and outright hate as she's worked to expand her artistry and embrace her sexuality for her third album Dangerous Woman, released Friday.
Read more: Ariana Grande Will Fight Slut Shaming Until She's an "Old-Ass Lady With My Tits Out" 
Most recently gotten called whore, then slut, then whore again, in response to her album's risqué music videos. We see way more of Grande's shoulder and thigh than we ever have in her "Dangerous Woman" video, but it's nothing that couldn't air safely on Nick at Night.
Yet this backlash album only makes one's first listen that much more delicious. Top to bottom, the album feels like a clap-back concept album that delivering immaculately nail-polished to all those pundits and trolls who have tried to tell her who or what she is. The song that delivers the sharpest slap is "I Don't Care." Its chorus captures so much of the message Grande is trying to deliver at this point her her career: "If I can't be me, then fuck's the point?"
"Used to cry 'bout some crazy shit before," Grande sings on the song's opening verse. "I used to feel so obligated to be so much more/ I used to let some people tell me how to live and what to be/ But if I can't be me, then the fuck's the point?"
It's the shortest song on the album. But really, what more needs to be said? There's no better way to shut down one's haters than with self-love.
"Now I laugh about the things that used to be important to me," she sings later in the song. "Used to have a hold on me, used to have a hold/ Like what do you think/ And what he thinks and what they think/ But I love me."
The message weaves throughout the album. On "Bad Decisions" she seems to run down bullet points from the latest chapters in the life of Grande: "I been doing stupid things." (Donut-licking, perhaps?) "Wilder than I've ever been." (Super Bunny latex outfit?) "You've become my favorite since." (Anyone but Big Sean.) "So let 'em keep, let 'em keep on talking." (She doesn't care.)
The title track, states this rallying cry again: She doesn't need "permission" to be bold, tell off fuck boys and be sexy if she wants to. "Made my decision to test my limits/ Cause it's my business, God as my witness." Grande's choice to change the album title's from Moonlight, also the name of the album's to Dangerous Woman speaks volumes.
Grande's been pushing this empowered message outside the booth as well. She's been been bringing equal creativity and imagination to the way she describes her views on feminism and the way culture still prudishly approaches female bodies. 
In a Billboard profile published Thursday, she went in on internet commenters and radio stations who try to make women feel less-than for showing skin while praising the bare chests of Justin Beiber and Zayn Malik.
"If you're going to rave about how sexy a male artist looks with his shirt off, and a woman decides to get in her panties or show her boobies for a photo shoot, she needs to be treated with the same awe and admiration," Grande told Billboard. "I will say it until I'm an old-ass lady with my tits out at Whole Foods. I'll be in the produce aisle, naked at 95, with a sensible ponytail, one strand of hair left on my head and a Chanel bow. Mark my words. See you there with my 95 dogs." So. Savage.
With every listen, it gets harder and harder to view Grande's Dangerous Woman persona as an act, and it's harder to find a label that can trivialize her talent. She can keep up with Nicki Minaj's hustle on "Side to Side," head-bang with Future on "Everyday" and croon with Macy Gray on "Leave Me Lonely," all without becoming a parody of herself — a pop star's ultimate fear. 
Even if one could could come up with a label to pin the new Grande down, it's not like she would care. That is truly dangerous people live and live loud.