Levi's Pride Jeans Collection Brought Back the Hanky Code Just in Time for Pride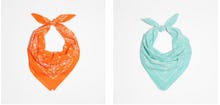 Here's something you should always keep in your back pocket. 
Levi's just announced its 2016 Pride Collection and along with its denim staples, the company announced a throwback accessory (a throwbaccessory?): The hanky. 
For cowboys roaming the Wild West, a hanky was a way to keep dust off your neck. For hipsters traipsing through Williamsburg, it's a fashion statement. But for gay men pre-Grindr, a hanky hanging out of a back pocket wasn't a sartorial choice — it was a sexual choice. 
Before Manhunt, Adam4Adam or Grindr, gay men used handkerchiefs in the 1970s and 1980s to signal not only their sexual orientation, but sexual activities and roles they enjoyed. Gay men adopted handkerchiefs around the same time that they embraced the idea of the "Castro Clone" — the masculine gay man who wore skin-tight Levi's jeans, skin-tight tank tops and a plaid shirt with a few top buttons undone. 
While Levi's offers six colors to put in the back pockets of your jeans, most online hanky code guides identify dozens of color-coded options. The meaning of the hanky also changes depending on whether the wearer puts it in his left or right pocket. People who wear the hanky in the left pocket are showing their insertive/dominant/top side, while the right pocket is for is for receivers/subs/bottoms. 
For instance, the two men embracing in the photo below — the one on the left, with a red hanky on the right, is a fistee, while the one on the right likes to give and receive handjobs. 
Those interested in reading the foundational hanky code text can read The Leatherman's Handbook by Larry Townsend. 
A piece of gay history: Bringing back the hanky code helps remind gay men — and others in the LGBTQ community — of their history. Before the AIDS crisis portrayed us as vectors of disease, and before marriage sanitized us into domestic goddesses, sexual freedom and queer liberation were intertwined. 
It may sound odd to be getting all this from a simple hanky from a corporate clothing retailer like Levi's, but the hanky is a reminder that, in the age of "No Fats, No Fems" tank tops, there's still one clothing item that shows you want to reach out and touch someone, not the opposite.