So ... McDonald's Just Unveiled a Green-Tinted, Egg- and Pork-Filled Burger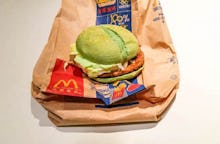 Not all green food is good for you. Case in point: The latest green burger released at McDonald's in China. The chain is now serving up green and red burgers to promote the new  Angry Birds movie, Kotaku reported. How titillating. 
The green "Naughty Green Pork Burger" (consisting of a pork patty, an egg, lettuce and an unidentified sauce) is one of two new speciality burgers, pictured below. The "Angry Red Burger' is a double chicken patty served on red buns. 
Website That's reported that the burger "wasn't as large, or as succulent as the advertisement made it appear, but then again they never are." Just compare the photos below and you'll see the writer's right on point.
Gleaming, majestic and potentially intriguing green burger: 
Last fall, a black Halloween-themed Whopper from Burger King turned burger lovers' stools bright green when the food coloring wasn't completely absorbed during digestion, reported Live Science. 
Which leaves us wondering: What magical effect this new green burger will have on humanity?