Valedictorian Student Was Prevented From Walking at His Graduation Because of His Beard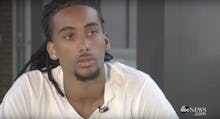 Andrew Jones graduated valedictorian from his high school in Amite, Louisiana, but he didn't get to walk with his classmates down the aisle. 
Instead, he had to miss out, all because of a dress code rule about beards. 
Despite his straight As, Jones was barred from walking because of his facial hair. The school dress code forbids facial hair on students and required all graduates to shave it off if they wanted to walk, 11Alive reported. 
"Eventually they took my gown," he told the station. "They told me they had to take my gown from me."
The school insisted that the policy was longstanding and that other students who were asked to shave before graduation were allowed to walk. Jones however, refused, because he said the policy was not typically enforced. 
"It don't make sense, every day of school I went with it, even more, I did shave," he told the station. "I had like sides and everything, but I shaved that for graduation."
But it wasn't enough.
School officials said they reminded Jones and others three times including the night before. The school declined to address to the station the extent to which the policy was enforced day-to-day at school.  
In any case, it won't matter in the long run as Jones will be off to Saint Louis University next fall on a full academic scholarship. 
Read more: Surprise! This Year's Graduating Class Is the Most Indebted in History — Again