Who Is Ariana Grande's "Thinking Bout You" About, Anyway?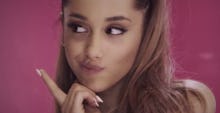 Fresh off the heels of the release of her new album, Dangerous Woman, Ariana Grande is making waves online for one track in particular, titled "Thinking Bout You."
Fans and haters alike have already have praised the album on Twitter, especially its title track, which Grande debuted during her turn as Saturday Night Live host in March.
But "Thinking Bout You," despite having lyrics which are pretty standard fare for a romantic pop ballad ("I'm just thinking 'bout you" the chorus repeats over and over), has drawn the curiosity of fans, who are left wondering, "thinking 'bout... who?"
Its washed-out melody and synth effects evoke a daydream of a lover, and a current one by the sound of it:
Oh, I don't have you here with me/ But at least I have the memory/ I tried to make it through the night/ But I can't control my mind
Grande's love life has been well-documented by the tabloid media: In October 2014, she started dating rapper Big Sean, and she had previously been in a long-term relationship with fellow musician Jai Brooks, whom she met online.
But the pop star has most recently been linked to backup dancer Ricky Alvarez, the same guy standing next to her in the video that surfaced last July of her licking donuts.
The song seems to reference a love of Grande's who a combination of crazy scheduling and distance has kept away from her:
I've been thinking 'bout you/ Yeah, I been missing you/ Where the hell are you, oh, when I need you?/ I could still hear your voice/ I ain't got no choice, cause I'm here all alone/ I know I can't wait 'til you get home
With the two lovebirds traveling like crazy and Grande busy promoting her new album, it's a sweet way to close out the album with a tribute to the bae she's probably missing.
Read more: Ariana Grande Will Fight Slut Shaming Until She's an "Old-Ass Lady With My Tits Out"