Plus-Size Male Models Are Getting a Ton of Press, So Why Not Any Real Campaigns?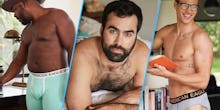 In March, American Eagle's loungewear offshoot Aerie teased a new underwear campaign, called #AerieMan, starring men with a variety of body types. There was Matt, who looked more like your average male fashion model with six-pack abs. There was Doug, who was smaller than your average runway model with a bit of a tummy. There was Kelvin, an African-American model who also had a more pronounced stomach. And there was Devon, who was pretty lanky. 
At the time, many people leapt to champion the campaign, with Mic calling it "the underwear campaign we've all been waiting for." It even seemed to come at an ideal time, with the recent announcement that IMG Models was opening a plus-size male division called "Brawn" and plus-size male model Zach Miko landing a few spots on Target's website. 
Aerie's campaign seemed to be yet another sign that plus-size male models were finally getting their due. 
But one week later, the campaign was pronounced an April Fools' Joke, with Aerie saying that, although it's known for embracing female models of all sizes, the campaign with men wasn't real. 
"American Eagle Outfitters proves once again they're not afraid to take a risk and have a laugh in support of a good cause," according to a company press release announcing its pledge to "forgo retouching its male models in its underwear and swim images beginning Holiday 2016."
But by "male models," Aerie doesn't mean male models that look like Kelvin or Doug. It means the models on its website, who look like this:
Aerie in particular has been a leader of body positivity, casting female models with a variety of body types while pledging not to digitally alter them in its campaigns or on its website. Since pledging to stop altering them, its business has gone through the roof, with sales up by double-digits, which may have also been helped along with big names (on social media, at least) like Ashley Graham and Iskra Lawrence recently and frequently speaking out about the importance of body positivity, as well as our clap-back culture, which encourages calling out Photoshop. 
But even in March, Aerie wasn't ready to bring plus-size men into their body positivity fold. 
Why, with all this press and talk surrounding plus-size male models, are there still no real campaigns starring plus-size male models? Why is it taking so long for retailers and companies to realize the potential?
While the #AerieMan campaign wasn't real, the company insisted it still isn't deviating from its body-positive stance which was... confusing to some. When Mic reached out for a more detailed comment, a spokesperson wrote in an email, "#AerieMan was not a prank but rather an opportunity for us to raise awareness about body positivity," which they also reiterated on Twitter later that day. 
Twitter didn't miss a beat to call out the company's hypocrisy.
To add insult to injury, one of the models, Kelvin Davis, announced days later that he was not told the advertisement was a hoax when he it was filmed. For him, had it been real, it would have been his biggest campaign to date. 
"The word 'AerieMan' was supposed to be the joke, not the campaign," Davis, who runs the body-positive fashion blog and Instagram Notoriously Dapper and is featured in many Chubbies campaigns, said in a phone interview. "They told me they're fully devoted and look forward to working with me in the future." 
If anything, what they did was get the idea of a "plus-size male model" out there, which does help raise awareness. Since then, more people have been more vocal about plus-size male models, with the New York Times profiling Zach Miko. 
Read more: Target's Only Male Plus-Size Model Zach Miko Hits a Bull's-Eye for Body Positivity
It's now a topic more people are aware of than ever before. However, oddly enough, especially given how everyone reacted so strongly to the fake campaign, few companies have taken advantage of this opening in the market and cast plus-size male models in their own campaigns or advertisements since. No one has looked at the outrage post-#AerieMan and thought, "People have a lot of feelings about this. Let's give them a campaign that actually does what #AerieMan didn't." 
"There was positive feedback to Aerie, but also negative," Davis said. "People talked all about my stretchmarks. With everything comes a negative, and I think [companies are] afraid of that negative feedback, but they're going to have to eventually give in because we're not going anywhere." 
Davis said there's still not a lot of business for men like him because people are also still very confused as to what a plus-size male model is. 
"People are like, well, 'What makes a plus-size male model?'" Davis said. "A lot of me honestly thinks that a lot of agencies want to do it, but I learned at New York Fashion Week that the way the fashion industry works is that if the designer or brand doesn't have the sizing for it, there's no need for the models. So until brands and designers start saying that I want my brand and models to look like this, then things will change."
Read more: Female Plus-Size Models Are on the Rise. So Where Are All the Plus-Size Men?
And these companies actually have good reason to still be confused. There is still, to this day, a loose definition of what a plus-size male model is. For instance, plus-size female models usually start at a size 12 or larger across the board; for Davis, a "plus-size man" should mean someone who is simply larger than the average size of the American male model. American male models are usually a size 30 or 32, according to Davis, so a man who is a 34 or larger should qualify, but there's truly no exact definition as of now. (If a man who is a size 34 or larger could be plus size, that would mean that men like the Rock would qualify, for instance.)
Even when IMG Brawn launched, there was still a loose definition of what a plus-size male model is, and Davis doesn't think that's helping things. 
"It shines light on that issue of body positivity for men and more diversity for men," Davis said. "It's almost like this separate connotation on us like, since we're like this separate branding and item that nobody wants to touch. It's almost like a catch-22. It brings a light on this issue but then, it doesn't really give any specifics on what a plus-size male model is." 
Since the #AerieMan debacle, the first plus-size male modeling agency, Bridge Models, opened up in England in May. Much like IMG Brawn, the agency didn't seem to be dedicated to defining what is and isn't a plus-size male model, focusing more on the overall body type and personality instead.
"We are looking for healthy and attractive men that are photogenic and have the confidence and personality needed to become a model," Charlotte Griffiths, the co-owner of Bridge Models, said in an email. "Ben [Whit] is a great example of a tall, broad man that is into health and fitness and struggles to find clothes that fit. The fact that he is a personal trainer is an added bonus to us as we feel strongly about promoting a healthy body image with all our models."
"I think that people jump straight to one conclusion when it comes to the phrase plus size," Ben Whit, Bridge Models' first signed plus-size man, told the BBC. "But it means many things and for women in modeling it's about being curvier and for men, representing those that are broader." 
And that may actually end up being a good thing in the long run. Although people still remain confused as to what constitutes a plus-size man, having a loose definition helps eliminate the idea that male models will have to meld themselves to certain constraints, like being a size 34 or larger. Instead, plus-size male models can define what a "plus-size male model" is on their own terms. Rather than agencies pushing a physical ideal onto these men, it's these men making the rules. For that to happen, though, the plus-size male model community needs to come together, much like the plus-size female model community did years ago. 
If they do, they could create a figure that's the male equivalent to model Ashley Graham, who is incredibly vocal about things like Photoshop and taking pride in one's own body, who can help champion the cause. Already with agencies beginning to open up for them, plus-size men are in an interesting position, seemingly just waiting for brands to catch on, which means that they may have to do some footwork themselves. 
"The women never gave up. The reason why the women's industry is what it is that they kept on pushing," Davis said. "The more we're consistent as a community, the more brands will pay attention. As soon as we give up, the mission dies. Imagine if we all just stopped, and there was just silence. People would be like, 'Well, glad we didn't give into it.' People think it's a fad, and it's not." 
Imagine if we all just stopped, and there was just silence. People would be like, 'Well, glad we didn't give into it.' People think it's a fad, and it's not." 
In addition to coming together as a community, Davis also thinks that certain campaigns could be elemental to the group's success. Currently, Chubbies, which specializes in printed shorts, is the only brand that actively embraces male models with a variety of body types in its campaigns and ads. So in Davis's mind, the most impactful campaign for him and his peers would actually be one that's similar to #AerieMan in that it's from a brand that thousands or even millions of people can see and access, while helping to eliminate some of the stereotypes surrounding plus-size male models now. 
"I think underwear campaigns would get the most publicity," Davis said. "If Calvin Klein did an underwear ad with us people would go crazy. You don't see those kind of guys in those campaigns. If you passed by that ad, you would not only know see that they were being inclusive, but looking to the future." 
And that's precisely what Davis is waiting on the industry to do.