The World's First Porno Reality Show Just Premiered — And It's Super Problematic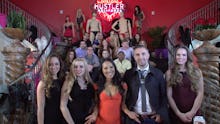 Last week, the porn website xHamster's new reality show competition for aspiring porn stars, The Sex Factor, finally debuted after more than two years in development. Produced by former software salesman Buddy Ruben, the show purports to be an America's Top Model-style opportunity for young people wanting to break into the adult film industry, complete with a million dollar prize and an exclusive modeling contract. 
But right after both the trailer and the first episode of the series debuted, The Sex Factor has already garnered some criticism. Some cast members told ABC News they were unpaid, received scant mentorship and no TV exposure. (It's worth noting that not paying cast members is considered fairly standard in reality television.)
Ruben told Mic contestants were compensated for their appearance on the show with exposure, mentorships and networking opportunities, but some cast members don't agree.  
"Initially it was great," former contestant Allie Eve Knox told ABC reporters on Nightline. "[But then] it just turned into shooting straight porn." Knox pointed out on her blog that several of the cast members don't list any Sex Factor information on their social media profiles, and although her contract prevents her from discussing her experiences on set, she has now chosen not to publicly associate herself with the show. 
The Nightline segment also suggested that executives failed to deliver on the alleged "million dollar prize," which was featured heavily in the show's promotional materials. Ruben told Mic in a phone interview that the actual amount of money the winner walked away with is "confidential," but there was a "cash component."
"I'm contractually not allowed to say much," another contestant, Kaelin Blake, said in an interview with Mic  via Twitter direct message. Yet she added that "the level of professionalism [on the show] was not what I expected."
"I know I was competing to be a porn star, but it would've been nice to have been treated with more respect."
It's also worth noting that the show's first episode propagates many of the less female-friendly tropes associated with the porn industry. The trailer and first episode of the series focus heavily on porn industry tropes like blow jobs, men ejaculating on women's faces and cliche role-play like the subservient maid, or the macho plumber penetrating a woman with his plunger. 
Thus far, at least, there hasn't been much deliberate focus on female sensuality on The Sex Factor. Ruben said challenges like the the blow job competition, which provided a hefty chunk of the penis-centric footage broadcast so far, was just one part of the "battle of the sexes," but declined to elaborate further on the show's gender dynamics.  
Blake said that while shooting the show, her "pleasure was definitely never a priority" — which is somewhat to be expected, in an industry where many female performers claim to frequently fake orgasms. 
However, while Blake did note that the crew was accommodating when she got sick and that it strictly enforced industry standards for STI testing, she described performing on the set as "uncomfortable."
"I realized during the filming how much weirder porn is than sex," Blake said. "I knew very early on I didn't want to be in the industry." She left before shooting wrapped up. 
Perhaps one of the most disturbing things about The Sex Factor, however, is the moment in the first episode in which a male contestant, David Caspian, is seen repeatedly exposing himself to female contestants, despite their frequent requests to stop. Several female contestants say that Caspian routinely follows them around naked while masturbating and makes them uncomfortable (something that Mic's EJ Dickson also noticed when she met the cast in 2015). His behavior is laughed off and the judges are disappointed when Caspian gets eliminated. 
As Lux Alptraum wrote for The Verge: "The show's lax attitude toward his complete disrespect for his housemates' boundaries is rather appalling." Ruben declined to comment about how the behavior was handled behind the scenes and how much of it was known to the judges who praised Caspian. "All that's intended to be seen is what's in the episode," he said.
Fellow female contestant Dani Darko told Mic via Twitter direct message that some crew also exhibited problematic behavior. In an interview published on the adult industry forum AdultDVDtalk, contestant, Darko said she felt "creeped out" on set because the men were "pervy." 
"I know I was competing to be a porn star, but it would've been nice to have been treated with more respect," Darko said. "I would hear the film crew say judgmental things about other contestants and it just wasn't cool at all."
When asked about Caspian's behavior, Ruben said there were "many conversations" on set about consent and safety, but declined to comment further on any details or context. 
The sex industry has a reputation for being exploitative and misogynistic. But the reality is much more complex than that. Many women feel empowered through their work in porn and see the industry as a professional platform for fighting gender inequality. Yet some contestants on the show reported that their experience on The Sex Factor propagated all of the negative tropes associated with the industry and left a bad taste in their mouths. 
"Instead of a reality show, showing porn stars behind the scene, they just wanted to film a giant orgy," said Darko. "I didn't learn a damn thing from being on the show."
Regardless, producers are moving forward with plans for a second season. "We are accepting applications [now on their website]," Ruben said. "We will have an open casting call in January."