The People Who Made Your iPhone Would Have to Spend a Month's Wages to Buy One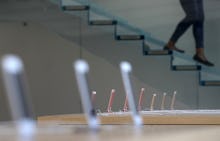 The people piecing together Apple's high-end smartphones are making extremely low wages. 
On average, workers at the Pegatron factory in Shanghai, China earn roughly $650-$850 a month including overtime, Bloomberg reports. Even with overtime, workers are barely earning the cost of one iPhone, which retails for roughly $685 in China based on current exchange rates.
The figures indicate that Apple's suppliers aren't paying workers enough considering the massive amount of money its electronics pull in. Last fiscal year the company reported nearly $234 billion in revenue. 
In February, China Labor Watch released a report that said workers at Pegatron make $1.82 an hour working six days a week and more than 10 hours a day. The report  also stated that "monthly overtime hours exceed 80 hours" for more than 80% of workers. Furthermore, one worker explicitly told CLW, "Wages aren't enough to live without overtime pay."
Inquiries into the working conditions of major technology suppliers first started in 2010, when Chinese workers erupted in protest after a dozen employees at Foxconn Technologies' facility in Shenzen committed suicide, according to the Economist. Apple contracts with Foxconn to make its iPads and iPhones. Since then there has been pressure to reform working conditions at these facilities.
For its part, Apple says it has conducted a series of investigations into facilities it contracts with overseas. In an effort to keep employee hours in check, Apple says it's working with factories so workers aren't clocking more than 60 hours a week. In 2015, Apple reports, its suppliers were 97% in compliance with this rule.   
Meanwhile, Pegatron has instituted a badge system to ensure employees aren't putting in more than the 60 hour maximum, according to Bloomberg. In the short term that means workers may lose much-needed income. However, there may be a silver lining. Since many workers rely on those overtime wages, a cap on hours may inevitably mean that factories have to raise their pay rates in order to attract and keep workers.