This Sheriff's Department Has a Warning About Weed That May Actually Be Worth Heeding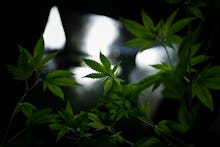 It's common knowledge that one has to wash her greens before she eats them — but based on the findings of one Sheriff's department, the same logic may apply to your marijuana, and for good reason.
This week, the Sheriff's Department for Stanislaus County in California is warning people to wash their weed after over 20,000 plants were seized from a grow that was too close to land that had "toxic chemicals, insecticides and pesticides," according to the Modesto Bee. 
"We encourage everyone not to ingest marijuana," the department said, according to the Bee. "If you choose to break the law an put yourself in danger, please at least wash the marijuana before using it."
In January, Stanislaus County voted to prohibit any growing and selling of medical marijuana, according to KCRA. Officials removed the plants early this week from the nearby San Joaquin River with help from the California Department of Fish and Wildlife. 
One of the chemicals they identified was carbofuran, an extremely toxic pesticide that's so powerful, it was once used to kill hyenas. 
Washing marijuana isn't exactly common practice, but some people say it makes a smoother smoke. One Bluelight forum user wrote that they wash their weed by soaking the weed in a jar and repeatedly straining it through a coffee filter before letting it dry. 
Read more: Marijuana May Be Good For Your Skin, But Smoking Is Not — That's Where Vapes Come In