The 2016 Billboard Music Awards Are This Sunday; Here's Why You Should Care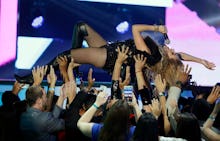 The 2016 Billboard Music Awards will air this Sunday, and the team behind the show seems to be preparing for an epic night — but a good swath of music fans still have no idea what a Billboard award actually is or why they matter.
For years, Billboard's award ceremony has taken a backseat to the Grammy Awards and the MTV VMAs, both of which can be counted on to make headlines the next morning, whether it's for their celebrity clashes or powerfully charged performances. Last year, the show hit a 14-year high, drawing 11.1 million viewers. But even then, it still sat between the Academy of Country Music Awards (15.7 million total viewers) and the iHeartRadio Awards (5.2 million viewers). This year, the Billboard Music Awards are gunning for the spotlight. 
Read more: Lady Gaga Defends Kesha After Dr. Luke's Label Canceled Her Billboard Performance
The ceremony will have a series of "showcases," which will feature several artists whose fans haven't heard from in years, including Britney Spears, Celine Dion and Kesha. The awards will also be premiering the new video from record-breaking Adele's summer jam "Send My Love (To Your New Lover)." Here's a rundown of some of the breakout moments that people will likely be talking about well into the work week.
Britney Spears
Spears is receiving this year's Billboard Millennium Award and will open the night with a greatest-hits medley. 
"It's going to be her with a couple dozen dancers, plus costume changes, and she's going to walk through her catalog," Mark Bracco, one of the awards show's producers, told Billboard. 
The show is taking place at the T-Mobile Arena in Las Vegas, the city that Spears has called home for the past few years. If she's trying to pull off an epic comeback, at least she'll have the home-field advantage.
Adele
At last year's Billboard Music Awards, Taylor Swift premiered the squad-studded music video for "Bad Blood," which went on to set a new record for VEVO, by getting 20.1 million views in just 24 hours. But it didn't last long. Adele's "Hello" video dropped broke that record just five months later. 
Of course, her coming "Send My Love (To Your New Lover)" hasn't generated nearly the same level of hype as either video drop, but no one should not underestimate an artist who sold 3.38 million copies of 25 her first week.
Madonna
The awards show will also feature a Prince tribute from Madonna — which Bracco said promises to be "one of the emotional highlights of the show." 
Artists performing memorial tributes to other artists have historically been hit-or-miss. Lady Gaga's tribute to the late David Bowie at this year's Grammy Awards received mixed reviews, while Esperanza Spalding's performance at the 2012 Oscars honoring Whitney Houston and Elizabeth Taylor, among others, was widely praised. The pressure will be on Madonna to pull off a fitting tribute to one of the most influential artists of the past century.
Ciara
The show won't be without drama. The hosts this year are Ludacris and Ciara, who were also tasked with announcing the list of Billboard Awards nominees back in April. Everything was going fine until Ciara refused to say Future's name. 
Future, nominated in the top rap artist category, is also Ciara's ex-fiancé and the father of her child. The two are allegedly involved in a custody dispute, which may or may not spill out onto the stage come Sunday.
Justin Bieber, Rihanna, Demi Lovato, Pink and more
The show will also feature performances from Justin Bieber, Rihanna, Demi Lovato, celeb couple Blake Shelton and Gwen Stefani, Fifth Harmony with Ty Dolla Sign and Pink, among others. 
It's a stacked night — but, as with any awards show, putting a bunch of talented celebrities in a room together doesn't guarantee a good time. The Billboard Music Awards will have pull out the stops or risk slipping back into awards-show doldrums.
The ceremony will air live starting at 8 p.m. Eastern on ABC Sunday, May 22.