Secret Service Shoot Man Outside White House Security Checkpoint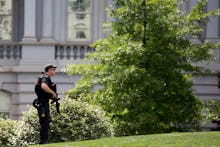 A man with a weapon who approached a security checkpoint outside of the White House shortly after 2 p.m. on Friday was shot by Secret Service officers, CNN reports. He was wounded and taken to a local hospital.
The White House was placed on lockdown until "around 4 p.m.," when it was lifted, reported CNN. President Barack Obama was not in the building — he was playing golf at the Andrews Air Force Base in Maryland at the time of the shooting, reported the New York Times. Vice President Joe Biden was "secured" inside the White House.
The U.S. Park Police reported the shooting Friday afternoon, tweeting: "Shooting on W. Executive Dr. PIO en route to 17th and Pennsylvania."
An official told CNN that the suspect's vehicle had also been found near where the shooting took place. According to a White House official, "No one within or associated with the White House was injured, and everyone in the White House is safe an accounted for. The President has been made aware of the situation." 
May 20, 2016, 4:18 p.m. Eastern: This story has been updated. 
Correction: May 20, 2016