Oklahoma Governor Vetoes Bill That Would Have Made Performing Abortions a Felony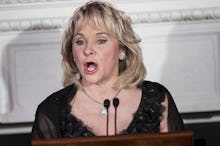 Oklahoma Gov. Mary Fallin on Friday vetoed a bill that would have made performing abortions in the state a felony, according to the Associated Press. Had she signed the bill into law, some said it would have been the first of its kind in the United States to defy federal abortion laws set by Roe v. Wade.
The Oklahoma Legislature on Thursday passed SB 1552, which would have ultimately made it legal to revoke doctors' licenses and charge them with felonies if they performed abortions. The bill went to Fallin's desk for consideration. 
May 20, 2016, 6:33 p.m. Eastern: This story has been updated.