The 8 Best Bottles at Trader Joe's Wine Shop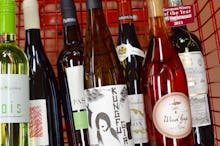 Trader Joe's Wine Shop is essentially Disneyland for booze-loving, cash-strapped adults. 
The aisles are brimming with bottles that cost less than that Tidal subscription you bought for one day to stream Lemonade. While the wine shop is nearly perfect, it epitomizes the paradox of choice: There are endless bottle options within every price point, but that can be paralyzing. 
When faced with 17 affordable Pinot Grigio options, it's easy to just skip over the aisle altogether and head straight toward the wall of Two Buck Chuck, the chain's (in)famous line of two dollar wine. There, you only have two choices: white or red. 
But this doesn't have to be the case, especially not when there is a world of great drinking right before you. With just a little bit of guidance, you'll be better armed to tackle those endless walls of wine. How about some advice from someone who literally gets paid to understand the drink? 
Meet your personal Trader Joe's sommelier
Meet Arvid Rosengren, a professional sommelier (that's the person that helps you pick out wine at a fancy restaurant) who has worked at many notable restaurants around the world. He's also the winner of this year's World's Best Sommelier competition. 
To learn how to better navigate the wild aisles of Trader Joes, Mic accompanied Rosengren to the shop in New York City. Below you'll find his eight favorite bottles, all of which are worth stocking up on, since they won't blow your paycheck.  
1. The best Rosé for classy summer sipping
Wine: Wind Gap
"Rosé all day" is a motto for a reason. This wine tends to be extremely sippable, especially on hot days. This bottle, made by one of Rosengren's favorite producers in California right now, is also very affordable. The taste is "super fresh and elegant," but also a bit more tart than most rosés, Rosengren said. "Instead of being sweet like strawberry jam, this wine is more complex and has notes of cranberry," he said.
 If you're looking for a bottle to pass around with a group of friends, this is it. 
2. A perfect riesling that's not too sweet
Wine: Kung Fu Girl
"This is a wine I have bought and sold a lot of," Rosengren said. Made by Charles Smith, who used to be a tour manager for a number of rock bands, the riesling is made in Walla Walla, Washington. Unlike many rieslings, this one is "not too sweet," and it pairs incredibly well with salads and spicy food. Most wines "become alcoholic and burning when paired with heat," Rosengren said, but rieslings cleanse the palette, making them ideal to drink with Thai food or even nachos. 
3. The must-buy white that's prime for any occasion
Wine: Lois
"When you see an Austrian wine in a shop, it's usually something worth purchasing," Rosengren said. "I can vouch that almost anything you find from Austria will deliver for the price point." Austria has tough export laws and "everything has to be approved and tasted" before it can be shipped, the sommelier said. This bottle is fresh, dry and versatile, and can pair with almost anything. 
4. A stupid-cheap white that slips under the radar
Wine: Floriana
5. A fancy-looking red that makes a great gift
Wine: Marqués de Riscal
If you're looking for a good, classic bottle of red wine, Rosengren said to turn to this bottle of Rioja, which is made in Spain. "The wine is aged in American oak which gives it a vanilla and dill character to it," he said. Because of its less-than-conventional notes, Rosengren said to pair it with racks of lamb, a good steak or a burger. "It looks really fancy too, which makes it a great wine to gift," he added. 
6. The red that goes with practically anything (even fish)!
Wine: Domaine des Hospices De Belleville Morgon
Type: Beaujolais
Price: $18.99
Rosengren recommended this bottle for anyone looking for a lighter, softer red wine. Made in the village of Morgon, "one of the best-known villages of the Beaujolais region in France," the wine has berry and spice flavors, as well as some herbal notes, Rosengren said. It's best served slightly chilled (yes, it's OK to put red wine in the fridge!) with white meats like roasted chicken or pork chops. It pairs well with textured fish (think monkfish), too. 
7. The ultimate problem solver
Wine: Pastora
At a complete loss in the shop? This sherry is your pick. 
"People tend to associate sherry with the cloying, sweet stuff their grandparents used to drink," Rosengren said. "But that's not the case with Spanish sherry." This drink tends to be very crisp. "Fino sherry is actually incredible dry and it has a salty, briny, but addictive flavor," he added. Rosengren suggested pairing it with salty foods like olives, almonds, cheese, grilled sardines and good, salty ham. He dubbed this drink the "problem solver wine" because it pairs with pretty much anything, even more perplexing dishes like pickled herring. (Finally! A wine for pickled herring.)
8. An impressive drink to serve with hors d'oeuvres
Wine: Graham's
Pick up a bottle of this port when hunting for an apéritif, or something to serve before a meal. "Fortified wines, like port, are a little out of fashion currently, but that makes it a great value right now because the bottles are quite affordable," Rosengren said. The sommelier himself likes to serve the port with cheese and "dark chocolate things." Happily.
Best part: An opened bottle can keep in a fridge for months, the sommelier said. Be careful with this powerful bottle, however, as it's 20% alcohol, which is pretty damn boozy. Not that there's anything wrong with that.