Donald Trump Campaign Admits It Didn't Actually Raise $6 Million for Veterans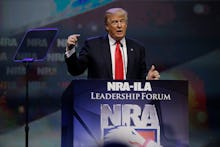 Presumptive Republican presidential front-runner Donald Trump has not raised $6 million for veterans' charities, contrary to prior announcements from his own campaign.
Trump, who skipped a GOP primary debate in Iowa to hold his own alternative event in January, said at the time his fundraiser managed to gather over $6 million for more than 20 veterans' groups, $1 million of which he said he personally donated.
"In the days that followed the Iowa fundraiser, the donations — ostensibly, apolitical gifts to needy veterans — became a centerpiece of Trump's campaign rallies," the Washington Post wrote in March. "He would frequently call the leaders of local charities up onstage and hand them a huge check in front of the cameras and the crowds."
However, on Friday, the Post reported campaign manager Corey Lewandowski now says only $4.5 million was actually raised because "there were some individuals who he'd spoken to who were going to write large checks, [who] for whatever reason ... didn't do it." As CNN noted, the Trump campaign has been tight with details on the specifics of the event, and only a figure in the neighborhood of $3 million has been confirmed as actually being disbursed to veterans' groups so far.
The event was intended to draw contrasts between Trump and his Republican rivals for the presidential nomination — as well as blunt any lingering criticism remaining from the time the candidate mocked Arizona Sen. John McCain for getting captured during the Vietnam War. 
Attempting to account for the missing money, the Post found small donors provided $670,000, while seven large donors gave a combined $3.78 million, coming close to Lewandowski's figure of $4.5 million.
The biggest hole? The $1 million promised by Trump himself.
Before the event, according to NJ.com, Trump's personal foundation gave out just $11,000 to veterans' organizations from 2012 to 2014, dwarfed by donations to the Drumthwacket Foundation, which maintains the New Jersey governors' mansion ($20,000); the Citizens United Foundation ($100,000); and the Bill, Hillary & Chelsea Clinton Foundation ($100,000-250,000).