LDS Church Responds to Allegations Brigham Young Admins Punished Assault Survivors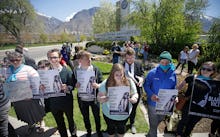 Mormon leaders at the Church of Jesus Christ of Latter-day Saints and Brigham Young University have responded to allegations that the school punishes victims of sexual assault with disciplinary violations. The church issued statements saying the LDS is "perfectly clear" that they support "reporting, investigation and prosecution to the full extent of the law" and called the allegations "gotcha journalism."
Earlier this year, the Salt Lake Tribune reported it had "interviewed at least a dozen current and former students who say they were investigated or disciplined for Honor Code violations in connection with sexual abuses against them ... of more than 50 people who have told the Tribune they were sexually assaulted while attending BYU, a majority said they did not report the assaults — most of them citing fears that they would be held guilty of chastity violations, either for the assault or for prior sexual contact."
BYU is a strictly Christian school with a strict student code of conduct barring immodest dress, premarital sex and drug and alcohol use. According to the New York Times, campus investigations into reported assaults often resulted in penalties up to and including suspension for infractions like drinking  for the victims, a possible violation of federal anti-sex discrimination law Title IX.
Occasionally "facts come to light that a victim has engaged in prior Honor Code violations," spokeswoman Carri Jenkins told the paper. The code applies at "all times."
In a statement on the church's website, LDS leaders wrote "Let us be perfectly clear: There is no tolerance for sexual assault at BYU or in the Church. Assault of any kind is a serious criminal offense, and we support its reporting, investigation and prosecution to the full extent of the law. Victims of assault or recipients of unwelcome sexual attention should be treated with sensitivity, compassion and respect and should feel that those to whom they disclose the assault are committed to helping them deal with the trauma they have experienced."
In the accompanying blog post, LDS representative Eric Hawkins called the damaging press allegations "gotcha journalism."
"The way that BYU has treated me has been so callous that it's been almost as bad as the rape itself," former student Madi Barney, who refused to cooperate in one such investigation and has since been banned from class registration, told the Guardian.
In the statement, the church added it would be seeking changes to how it handled "conflict between meeting Honor Code and Title IX priorities."