This Woman's Body Shaming Clapback Written on Her Chin Lit Up the Internet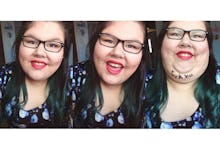 Eighteen-year-old Hannah Battiste showed the internet the best way to keep your chin up when it comes to body shaming. 
In a Facebook post, Battiste responded to people who ask about her weight or judge what she wears with a photo featuring everyone's favorite four-letter word; the photo has been shared over 1,000 times. 
She wrote the words "Fuck you" under her chin and revealed the message over three separate selfies.
"My reaction when someone judges me... 'You gained weight.' So what? Being thick is a choice! 'Why do you wear dresses?' Why tf not? If I wanna wear a dress through all the seasons, then I'm going to! No matter what you do, whether it's right or wrong, people are going to judge you... Go ahead and judge me. I know who I am, and I know my purpose in life."
According to Battiste, she never thought her post would garner this much attention. She told BuzzFeed that she really loves to make people smile. 
"One day, I looked at myself and felt pretty," she told BuzzFeed. "It's like I was looking at myself for the first time. And I made humor out of it because I don't really care what people think about me." 
On all the positive comments, she said: "It's amazing, it makes me feel so happy and tingly inside when I see how many people I inspire." 
Battiste disclosed her history of mental health issues and sexual assault with BuzzFeed, saying that she once attempted suicide and came home from that experience a different person. 
"I was more hurt, but I found out I was diagnosed with borderline personality disorder, post-traumatic stress disorder and generalized anxiety disorder," she told BuzzFeed. "I think no matter what you go through, there is always a sunny day, even when it's raining." 
When it comes to the haters, Battiste said that she doesn't have a problem with her looks or her weight — "others do." 
She added, "I know who I am, and even though people are still making fun of me, I just ignore them because I'm a strong person."