Basketball Player Etan Thomas Shares Story of Racist Train Encounter on Facebook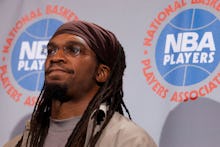 He's a retired professional basketball player, as well as a motivational speaker and poet — but Etan Thomas can't even get a seat on the train. 
On Friday, Thomas shared a story of searching for a seat on a train. While that's not unusual, the white woman who told him he couldn't sit next to her then gave the seat to a white stranger who asked about the same seat being open.
According to Thomas, he then asked the woman if she didn't give him the seat because he was black. Thomas says the woman asked him not to play the race card because she dated a black man in college. 
Thomas then told the woman he was going to take a picture to make a post on Facebook about the incident. 
When he went to take a snap of her, she called the conductor over. 
When the conductor came over, he recognized Thomas and — after a bit of starstruck gushing — thanked him for his service to the community. 
Thomas is not only a poet and a basketball player: He also started a national movement around black fatherhood and edited a volume of young poets' work that addressed topics like racism, Trayvon Martin, President Obama and the HIV/AIDS crisis. 
Thomas said the woman rolled her eyes and he just shook his head. But, in true Thomas form, he used the post as a teachable moment. Commenters appreciated the way he handled the situation. 
If there's one lesson that Thomas — or Forrest Gump — has to tell us, it's that no one likes the person who says the seat is taken when it's not.