A Woman Cracking Up at Her Chewbacca Mask Just Broke Every Facebook Live Record Possible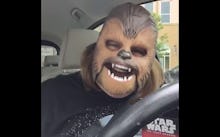 A Facebook Live video of a mom from Texas cracking herself up in a Chewbacca mask from Kohl's just became the-most watched live broadcast ever uploaded to the site. 
Candace Payne's four-minute long broadcast of herself trying on the mask in her car had amassed well over 100,000 within the first 48 hours after it went live. 
It shattered the previous record, which was held by BuzzFeed for a video in which its employees snapped rubber bands around a watermelon until the pressure caused it to explode. And to those who have attempted to wield the service in more purposeful ways to bolster their personal brands, the new record holder likely seemed to defy all logic.
Since Facebook rolled out the live broadcasting feature in late 2015, celebrities and media companies alike have scrambled to harness the power of live video to reach new audiences. 
But on Friday, with no more than a mask that makes Wookiee noises and an infectious laugh, a mom from the suburbs bested them all.
The simplicity of Payne's video is exactly what makes it so compelling.
Captioned "It's the simple joys in life," Payne's video is humble, light and accessible. Her laughter is infectious, the joke immediately clear: It's a Chewbacca mask with a moving mouth, and Payne, referring to it as the "best birthday present ever," is losing her shit over it.
It will be impossible to determine whether the success of Payne's broadcast is a fluke or not for some time (the internet is a notoriously fickle thing). 
Until then, we'll all have to content ourselves with scratching our heads and wondering why viewers seem to be less interested in life hacks, exploding watermelons and the 2016 election cycle than they are with being able to laugh along with someone who derives such pure, uninhibited joy from a $17.99 hunk of plastic.
Read more: The TSA Made $765,000 From Your Loose Change in 2015