Here's the Latest Inclusive Lingerie Line For Women of Color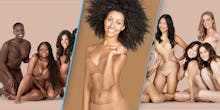 For years and years, the word "nude" was synonymous with a light, pasty shade of beige: think the color of an elastic bandage or a Band-Aid, made to blend into the skin of a person with very light skin. But some brands have started to get smart and realize that not everyone's "nude" is a light shade of peach. 
The lingerie brand Nubian Skin was one of the first brands to take advantage of this fact in 2014, creating a lingerie empire for women of color by releasing bras and underwear and, most recently, hosiery in four different shades. After positive feedback, the brand expanded to Nordstrom stores in the United States.
Read more: This Bra Company Is Getting It Very Right — and Victoria's Secrets of the World Should See
Now, another lingerie brand has joined Nubian Skin on this mission. Naja, which launched in 2013 and prides itself on being empowering to women by hiring only single mothers and/or female heads of households in its factory in Colombia, is releasing a line of lingerie in seven different shades on Monday.
Called #NudeForAll, the line is comprised of bras up to a DDD in seven different shades, with matching underwear up to a size 2XL. According to Naja founder Catalina Girald, the idea for the color-inclusive line came to her in 2012 when she was watching gymnast Gabby Douglas compete in the Summer Olympics. 
"I was watching her competing and these girls were wearing an [elastic bandage] wrap on their foot and it was the first time I had thought about that," Girald said in a phone interview. "I started thinking 'Wow, like, there aren't dark brown Band-Aids,' so it was a random idea. Naja didn't even exist then."
But by 2013, Naja did exist and since February, Girald has been working on #NudeForAll. Although Naja is still a very small company, the line is possible because of the company's supply chain, which allows Girald to produce batches of bras and panties at a quicker rate, and in more manageable amounts. Girald said that's actually what's keeping retailers like Victoria's Secret from also producing more diverse and inclusive lingerie. 
"The lingerie industry's structure is antiquated," Girald said. "They produce through a limited number of factories, and it takes about 12 months from concept to store. Naja manufacturers from concept to store in two months. We make 200 in each color and then we watch the pace of sales and we can see in the first week of sales what the curve is going to look like." 
So Naja's supply chain allows for more experimenting, and therefore can create a line like #NudeForAll. By producing a variety of different nudes, Girald's company joins not only Nubian Skin, but underwear brand Björn Borg and dance apparel company Mahogany Blues, as well as high-end shoe designers like Christian Louboutin, which first released a line of high heels in a variety of different shades of nude in 2013. There's now even a website, called Mia Pielle, that helps users find the ideal nude for them. 
For this campaign in particular, Girald wanted to ensure that the ads, which will be featured starting Monday in the New York City subway, weren't like other lingerie advertisements, and put the women's personalities ahead of their bodies. In order to do that, she brought in Madonna Badger, a New York ad executive who recently pledged to stop objectifying women in advertisements, and vowed to include women who weren't actually models. 
"It's giving a face and a personality to the women in the ads," Girald said. "One is a ballerina. Another is a software engineer. Victoria's Secret angels have wings on them but we don't know anything about them, and they're these mythical creatures that don't exist. We wanted to represent women in lingerie as they actually are." 
"These ads show women as whole, human and strong," Badger said in an email. "You can see their personalities shine through. There was no retouching of their bodies to an unachievable standard, and the concept overall is empowering and inclusive." 
In addition to the subway ads themselves, Naja will be wrapping some of the poles inside subway cars with stickers that are the same color as its bras. That way, women can compare their skin tone to the different colors in order to find the one Naja nude that's right for them, which they're hoping can become a bit of a social media campaign. 
"What we want to show with that is that there are so many people and colors, we may not expect them," Girald said. "So you stand next to it and take a picture and tag it with #NudeForAll. The idea is to collect lots of images with lots of colors to show that there are so many different shades out there." 
Naja's mission to redefine what a lingerie ad can be is coming at a most appropriate time, with lingerie campaigns from Selfridges, & Other Stories and Aerie all promoting this idea that women in lingerie don't have to be digitally altered to oblivion. Sometimes, reality is the most beautiful thing of all. 
"All we're aiming for is to make [women] smile," Girald said. "I've been able to see the reaction of some women already and it's women who look like Nude #1 or Nude #7 seeing themselves in those ads as real women, with real stories."